Harlan Hague

Most Americans like Alaska, but many from the lower forty-eight still accept the Seward's Icebox myth. When William H. Seward, the American Secretary of State engineered the purchase of Alaska from Russia in 1867, angry and amused Americans dismissed the deal as folly: Seward's Icebox.

In fact, only a fragment of the land is covered with ice, and perpetual snow is uncommon. Some areas receive little at all. A Sitkan complained recently that snow is a great nuisance in the town because people are not accustomed to it. In any event, summer is the best time to visit Alaska. The variations in summer climate are delightful. During an August visit, I wore a heavy parka one morning, a t-shirt at noon, and a poncho in the afternoon.

Southeastern Alaska, the panhandle, is the most visited region in the state. Almost entirely included within the Tongass National Forest, it promises wildlife, glaciers, mountains and forests, Native American cultures, and interesting towns. One can get glimpses of the country from the Alaska ferries, or fly to towns where local tours can be booked, or take a float plane into the backcountry for a wilderness experience. But most visitors opt to sample the entire region by cruise ship.

Now there are cruise ships, and there are cruise ships. I wanted to book with a line whose objective was to show me the country and teach me something about it. I wanted a small ship, with a correspondingly short passenger list, and an on-board program that was not intrusive. I found what I wanted in Special Expeditions' M/V Sea Lion. The American-registered vessel is 152' long. Its shallow draft, only eight feet, and bow-thruster permit it to go where larger ships cannot. The ship carries about 70 passengers and a staff of five naturalists whose specialties include whales and other marine mammals, fish, birds, bogs, and local flora. The company is aptly-named. Its trips are not cruises, rather eco-expeditions.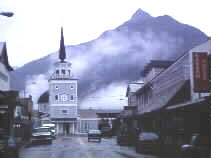 My wife and I flew to Sitka a couple of days early to look at the town. The site was home to Tlingit (klink'it) natives for centuries before they were subdued by Russian fur traders in the late eighteenth century. The sites of the Tlingit fort and battleground where the Native Americans and Russians fought are included in the Sitka National Historical Park. Totem poles stand beside trails in the wooded park. Walking the fog-shrouded paths, I felt the presence of Tlingit ghosts. At the park center, we watched Native craftspeople at work and wandered through the impressive displays of Tlingit and Russian artifacts.
We visited the remnants of Russian Sitka, New Archangel they called their colonial capital. St. Michael's Cathedral, a place of worship since the 1840s, stands in the town center. The cathedral houses a wonderful collection of icons. The Russian Bishop's House, completed in 1843, has been restored and furnished to its appearance in the 1850s when it served as the Bishop's residence, school, and chapel. A small Russian cemetery, overgrown and melancholy, is located on a hillside above the town.
Sitka has two fine museums. Artifacts of Alaska Native cultures are displayed in the Sheldon Jackson Museum. The Isabel Miller Museum houses artifacts, paintings, equipment, and everyday items from both Russian and American periods.
I boarded the Sea Lion with some apprehension because I was expecting so much. But I was not to be disappointed. The following nine days proved a feast to the eyes and the spirit. Glaciers with their feet in the sea were stunning. We stopped a few hundred yards from the face of Margerie Glacier in Glacier Bay National Park. From time to time, ice slid in sheets off the face, the sound reaching us an instant later. Hundreds of harbor seals lay on and cavorted around floes. I asked the naturalist why we didn't move closer to the face of the glacier for a better look.
"Wait," she said. Five minutes later, I had my answer. A house-sized chunk of ice burst from the water's surface about two hundred feet from the glacier face. It heaved thirty feet above the surface, then bobbed up and down, sending out huge waves. The naturalist explained that these "shooters" occasionally break off the underwater foot of the glacier, which slants outward from the glacier face. I was heartened to learn also that, though most glaciers have registered a net retreat over the last hundred years, some are actually advancing.
Before leaving the inlet, we saw bald eagles perched in treetops and stopped near the shore to watched a grizzly mother and two cubs feeding on blueberries. A huge cruise ship passed majestically in midchannel, its passengers unaware of the bears, except perhaps those with strong binoculars. Our own binoculars came in handy later when we sighted mountain sheep and goats on the heights.
Turning down channel, we saw chubby horned puffins and tufted puffins on the water, watched porpoises ride our bow wake, and cruised near some rocks where a large group of noisy Stellar Sea Lions greeted us. At Glacier Bay Lodge, we attended a lecture by a ranger and looked at interpretive exhibits. A number of us took a short walk in the forest nearby. Some impatient hikers forged ahead of the party and took a wrong turn. If the naturalist hadn't caught them, they would have been well on the road to Alberta by nightfall.
We left the ship every day in zodiacs for walks along the shore and into the forests. At times, there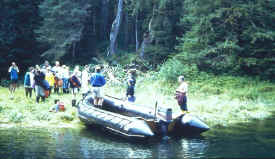 was no trail--few tourists walk where we did--and we forced our way through tangled growth. "Don't grab the devil's club!" our naturalist told us on one occasion. Of course I did, and the spines reminded me of my folly for days. Sometimes we followed a faint path. Sighting bear scat on the trail led to no little soul-searching. Did we really want to go this way? "Hey, bear! Hey, bear!" we shouted. There was also a lot of hand clapping and whistling.
On the walks, we watched thousands of salmon swimming up streams to ancestral spawning beds. We also saw the battered corpses of salmon that had spawned and died or who never made it through shallows to the spawning beds. We were moved by the tragedy unfolding and nudged struggling salmon into deeper water. The naturalist watched a moment and moved off. Never mind, she said, they would provide a rich feast for eagles and bears.
On one walk, we moved single-file across a pebbly tidal flat toward mountains partially obscured by lacy layers of fog. Heavy cloud clumps were etched against blue sky. I stopped and pondered. It was like another world and hard to take in. The naturalist led us into a muskeg and explained the ecology of the watery meadow. The landscape was surrealistic. The surface shook as we walked, and I felt like a water strider, fearful that the water tension would break and I would sink. Tree snags rose from the bog, and eagles watched us from treetops. The naturalist pointed out a tiny carnivorous plant that thrived in the bog. Rain began to fall, and our leader pulled out his radio and called for zodiacs.
Of all the wild creatures that we saw on the expedition, the sea otter excited me most. Once hunted almost to extinction for its luxuriant fur, the otter is now protected and has come back. We saw them by the dozens, sunning on offshore rocks or swimming in the kelp beds. A mother occasionally swam by on her back, baby enjoying the ride on her belly.
Midway through the cruise, we stopped at Haines in the Chilkat Valley. The town is built on a flat between the sea and a range of magnificent mountains. Tlingits lived in the region but never built a village here. At Tlingit invitation, the Presbyterian Church established a mission in 1881. The U.S. Army built Fort William H. Seward in the early 1900s. Decommissioned in 1946, the fort's Victorian-style buildings today are private residences and businesses.
My wife and I walked ashore at Haines and parted, she to crowd in as much shopping and sightseeing as possible at a frantic pace, I to stroll and stop for tea. I visited the fine Sheldon Museum, then watched a huge bald eagle perched in a pine tree on the museum's lawn. I wandered about Fort Seward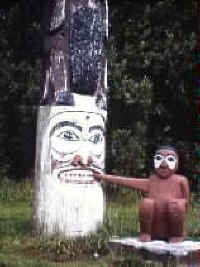 and visited the Alaska Indian Arts workshops on the grounds. I watched Native totem carvers at work and learned that the art and market for totem poles are alive and well. Only $1,000 per foot for a custom pole. A bargain undoubtedly, but I declined. No matter, they ordinarily have more orders than they can fill. Instead, I bought an exquisite print of ravens and snow by the noted Alaskan artist, Peter Goll.
In the evening, we gathered at the totem village on the fort's parade grounds for a salmon bake. We were served in a replica of a painted Native tribal house, decorated with totem poles and colorful wall panels. Dinner was followed by a fascinating performance of the famous Chilkat Dancers. Highly recommended.
During our voyage, we saw whales almost every day, frequently close enough for "ohs" and "ahs" and camera shots. One memorable day, we saw a pod of about two dozen hump backs, apparently hunting together. The captain cut the engine, and we drifted toward them.
Two whales separated from the pod and swam toward the ship. For almost three hours, the two swam around, under and alongside Sea Lion. They rolled, spyhopped, and tail-flopped. They showed no inclination to leave, and the captain finally had to back away cautiously. It may be the only case in recorded history of an excursion ship having to break off contact with whales. Most people, passengers and crew alike, remained on deck, excited and eager, but it must be admitted that some passengers finally put their cameras away and went below for cocktail hour. After all, three hours.
At recap that evening, naturalist Kim Robertson told us about her research on humpback whales and talked about her interpretation of the humpback song. She showed a chart on which she had illustrated the song by squiggly lines and curves. She played a recording of singing humpbacks and with her pointer did a bouncing ball routine on the chart. The song is essentially the same for Atlantic and Pacific humpbacks, though they have never had contact.
At the southern limit of our voyage, we sailed into Misty Fiords National Monument. Translucent layers of fog partly obscured the canyon walls. Lacy rivulets streamed down the sloping sides or fell free from ledges and turned to spray. The water canyons were a cornucopia of wildlife: eagles, seals, porpoises, sea and land birds.
We debarked at Ketchikan. An excursion bus took us to a salmon hatchery and Totem Heritage Center. The center houses a collection of original totem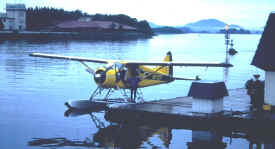 poles--most poles in Alaska are copies and recent productions--and demonstrations by working Alaska Native artisans. Saxman Totem Park, about two miles outside town, also has a nice collection of totems. In Ketchikan, we strolled on the Creek Street boardwalk, built on pilings above Ketchikan Creek. The little shops and eateries on the boardwalk originally were bars and houses of prostitution. Creek Street, it was said, was "where salmon and fishermen went upstream to spawn."
Sitka's accommodations run the gamut from hostels and B&Bs to fishing lodges and hotels. We stayed at Abner's B&B, formerly a miner's house, listed on the National Register of Historic Places. $50 double. Also recommended: the upscale rustic Westmark Shee Atika hotel.
For visitor information, including accommodation, call the Sitka Convention & Visitor's Bureau, (907)747-5940. For Ketchikan materials, call the Ketchikan Convention & Visitors Bureau, (907)225-6166.
In Ketchikan, we stayed at the Gilmore Hotel, also on the National Register, with a nice view of the waterfront. $90 double. Also worth investigating is the historic small New York Hotel, restored and furnished in 1920s style. $79. double.
For a brochure on Special Expedition's Alaska itineraries, call (800)762-0003, or see their web site.