Have you ever said to yourself mid-way through a trip: "Here I am, right where I want to be, doing what I long dreamed of, and I'm not enjoying myself. I've lost interest. I'm tired." Or worse: "I'm bored."

Chances are that you are more saturated than tired. The key to avoiding interest-fatigue is variety. In travel, as at table, you can get too much of a good thing. Don't do non-stop city tours of museums, castles, and museums. Do something different occasionally. This is easier, of course, when you plan your own trip or if you go to Europe with nothing more definite than your arrival and departure dates. But if you are careful, you can choose a tour that offers variety, or your travel agent will help you lay out an itinerary that includes variety.

One of the most delightful travel breaks that I have discovered, which now has become for me the high point of trips, is walking. I don't mean an evening stroll along Montreux's flowered lake front or even a brisk walk through London's Kensington Gardens before tea time. I mean a walk.

I hesitate to call it hiking, because that conjures up images of backpacks, bedrolls and unwashed bodies. The sort of walk that I enjoy is pleasant, refreshing for mind and body and, for most people in good health, not taxing.

Try this: En route between Bavaria and Venice, or between Switzerland and Vienna, take a day out for a walk in the Austrian Alps.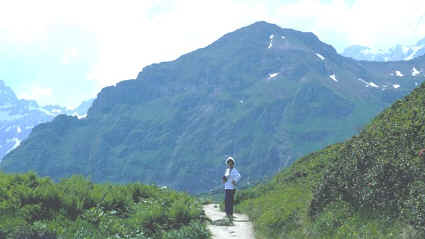 My family and I took a summer day trek in the mountains above the Montafon, the lovely valley between Bludenz and Partenen in western Austria. The region is popular for both winter and summer sports.
We picked up picnic supplies in the morning at Tschagguns and drove a bit higher to the Golmerbahn cog-train station. The train ride up the mountain to Grüneck in open cars is alone worth the trip. The scenery is breathtaking. The twenty-minute ride includes a mid-point change in cars.
If you are not a walker and will be content to sit at a table on the terrace of the station restaurant at the top and drink in the spectacular view, buy the round trip ticket. There's also a bargain family fare. There are frequent departures both ways.
Of course, you can avoid the train altogether by walking up the mountain. There are ample trails. But I wouldn't advise the climb unless you are an experienced mountain hiker in top physical condition. Thus, the advantage of the cog-train. Pay your fare, and you are an alpine trekker.
A number of well-marked trails begin at Grüneck. You might decide to walk out an hour or two and return to the restaurant for lunch on the terrace--be sure to linger over coffee for the view--and ride the train down the mountain.
Or follow our route. We took the trail for Lindauer Hütte, a popular stopping place for hikers. The path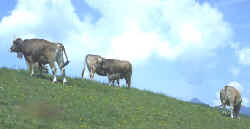 is quite safe and mostly level. Walkers occasionally share the trail with sleek, belled cows, brought to the high country for summer grazing. The Alpenrose (alpine rose) and other wildflowers added color to the lush green hillsides against a backdrop of snowy crags. The air was crystal-clear and just cool enough to be positively exhilarating. All my Heidi fantasies were satisfied.
We stopped often, less to rest than to enjoy the view. The slopes drop off gently to the valley thousands of feet below. Ahead, a range of peaks rose to the heights of the massive mountain called Drei Türme. Around every turn of the trail was another panorama that required yet another stop.
We didn't see many people. The trails were pleasantly uncrowded. We heard mostly German spoken. Indeed, we heard no English all day other than that of our own party.
Lindauer Hütte is more than an alpine hut, a small lodge actually. Services include a tiny restaurant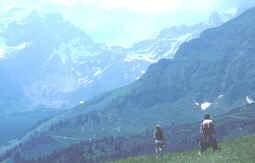 that serves salads and sandwiches of sausages and bacon. There are also toilets and a most inviting sun deck. Hikers stripped off sweaters, and a few shirts, and sat at wooden tables, eating lunches of cheese, meat, bread and wine.
The remainder of the walk was downhill. The low brush and sparse conifers gave way to thick forests. The trail ran alongside a small, clear stream and crossed it occasionally over narrow log bridges or on stepping stones.
The path became a single-track road and passed through fields of freshly-cut hay with its heady perfume. Picturesque farmhouses with traditional balconies and flower-filled boxes bordered the fields. We turned more than once to look back toward the mountains.
The trail eventually led us down to the lower station of the Golmerbahn where we had parked the car. In all, from Grüneck at the top of the cog railway back to the car, we had walked about five miles.
Transportation and accommodation in the Montafon valley are no problem. Schruns is the principal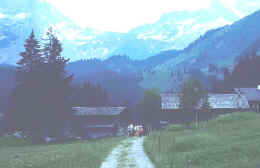 village, with rail service from Bludenz. There are buses to other villages and to the cog-train station. If you arrange your trip through an agency, you will likely be booked into one of the area's fine tourist hotels. If you are doing your own planning or you are driving in, you might prefer to stay in one of the smaller rustic hotels or simply take a room in a private home. Look for the "Zimmer" signs.
We were fortunate to walk with Austrian friends who planned our excursion, but you can do it easily on your own. Begin planning early, and write for information. Send for general tourist brochures from the Austrian government tourist office in the United States, but also write directly to the areas you plan to visit. For example, for information about Schruns, write Verkehrsverband Schruns, A-6780 Schruns, Austria, Europe. (Add "Europe" to signal the harried American postal employee not to send your inquiry by mistake to Australia. It happens.) Ask for detail about tourist attractions and a list of accommodations, including zimmers. Then you can write or telephone ahead if you wish.
If you want to write for specific information from any other town in Austria, use the framework suggested above. "Verkehrsverband" is the official local tourist agency. Most towns have them. Give the postal code, if you know it. If not, give the province, if you know it, after the town name. Example: Verkehrsverband Imst, Imst--Tirol, Austria, Europe. The town is Imst, the province is Tirol.
You don't need to fill your luggage with a special outfitting for the walk. My family wore khakis, jeans and shorts. If you plan to take a number of country walks, invest in a pair of light hiking boots. A pair of sturdy walking shoes will do as well. My ultralight RocSports serve quite satisfactorily as town, theater and walking shoes.

Carry a good sweater and windbreaker along. To be absolutely safe, add a light plastic raincoat or poncho. Mountain weather can change rapidly. One member of the party should take a small knapsack to carry excess clothing and a lunch if you decide to carry it, as we did. You can avoid the weight of the food by buying lunch at Lindauer Hütte.
The trail we took was just a bit higher than 6,000 feet, so most people should have no trouble with altitude. It goes without saying that anyone who plans a hike, even one of this little difficulty, should be in good health and reasonably good physical condition.
If you spend the night at your Montafon lodging following your walk, and you are driving, the next morning continue southward and eastward and see some lovely country. The trip from Bludenz to Innsbruck via the Montafon is three to four hours of easy driving and is most rewarding.
Write to the author with your comments or questions.
---
Caveat and disclaimer: This is a freelance travel article that I published some time ago. Some data, especially prices and contact information, may not be current.