THE GÎTE DE FRANCE
Harlan Hague

How many times have you watched a picturesque landscape and exotic villages flash by your train or car window and sighed? Perhaps you said as I have: "I'm trying to do too much. I am always hurrying to reach someplace I won't have time to see. I wish I could just stop and sit down and get to know this place well." In France, there is a delightful, inexpensive answer: the gîte.

The gîte is usually a house, but may be a wing or a floor of a house. It is usually located in the countryside--sometimes separate in its own grounds, sometimes part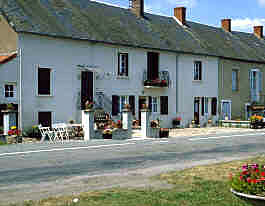 of a hamlet, a cluster of cottages or farm buildings--or in a small village. Some gîtes are recently-built, but most are old, well-maintained structures. Some indeed are centuries old. Before a rental property may display the official Gîte de France emblem, it must satisfy certain standards established by the Federation Nationale des Gîtes Ruraux de France, a non-profit organization that is sponsored by the national government.

Reflecting the rural nature of the gîtes, the Federation rates them by ears of corn, similar to the rating of hotels in France and other countries by stars. The more ears, up to three, the greater the degree of comfort. Gîtes are completely furnished, sometimes with a modern decor, but usually rustic, or a mix. You can arrive with nothing more than your luggage and--voila!--you are at home. That is, after visits to the nearest village shops for groceries and supplies, and that is also part of the gîte experience. Now you can enjoy at your leisure--no early train to meet tomorrow--the countryside, the life of the village and still have the towns and other attractions of the region close at hand.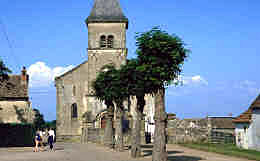 Gîtes are ideal for family holidays. My wife, three daughters and I settled comfortably into a gîte on the edge of Saint-Forgeot, a village in Burgundy with a scattered population of about four hundred. We had the lower floor of an attractive stone house. There were two ample bedrooms, a sitting-dining room with sofa bed and a large fireplace, a well-stocked kitchen and bathroom. Roses and petunias softened the pretty cobbled yard in front, and we had the use of the garden in back. Hay meadows and woods stretched to the near horizon.
Our landlord and landlady lived upstairs. They were most welcoming, so friendly and always ready with a smile and information about the region. Monsieur Ehret's English was rusty and he enjoyed practicing on us. Madame Ehret spoke no English, happily for me, for I am a linguistic coward and am reluctant to speak French with anyone whose English is better than my French. That brings to mind one of the great American travel myths that invariably is repeated to anyone planning a trip to France: that the French people are rude to any foreigner who speaks French with something less than perfection. It simply is not true.
From our gîte, we toured the national park and villages of the Morvan westward, and eastward through the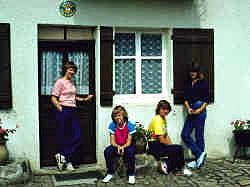 wine country from Dijon to Chalon-sur-Saone. We made repeated visits to Autun, a cathedral town of Roman origins, just four miles from Saint-Forgeot. We came to know the region and some neighbors well. As a result, we not only had a warm feeling for France and the French; we felt that we knew them.
Americans are discovering the gîte. Until the past few years, the most frequent guests were German, British and Dutch. There are around 40,000 rentals available throughout France, and bookings are made through one of the 90 regional offices. Detailed data on gîtes are published in regional booklets. There are four regions within Burgundy, for example. This means you should first decide on a region or two, then find out what's available.
If you would like to know more about this well-kept secret, write to:
Federation Nationale des Gîtes Ruraux de France
34, rue Godot-de-Mauroy
75009 Paris
France
If you know which part of France you would like to visit, mention that in your letter. Many of the official publications are in French.
If you don't trust your French, check your bookstore for the growing list of books on France that include information on the gîte holiday. I have found useful the Farm and Village Holiday Guide, published in English by McCarta Ltd., 122 King's Cross Road, London WC1x9DS, and available in many bookstores that have good travel sections. The illustrated catalog describes each gîte, including location, rooms, furnishings, maximum number of guests, amenities such as courtyard and garden, and weekly rates. Prices vary, according to all these factors, and season as well.
The French Government Tourist Office in the United States (http://www.fgtousa.org/) also has information on Gîtes de France. While they don't have copies of the many regional guides, they do publish a 'guide to the guides' which can be a help in getting started.
The gîte holiday is growing in popularity. For the best selection, begin your inquiries early. Six months before your vacation is not too soon. One caveat: all gîtes do not furnish linen. European renters generally bring their own, but Americans will find it difficult. When you decide which gîte you wish to book, be sure to ask about linen if you will need it. Then relax.
---
Caveat and disclaimer: This is a freelance travel article that I published some time ago. Some data, especially prices, links and contact information, may not be current.
---