THREE DAYS IN KENT
Harlan Hague
I'll readily admit that three days is not enough for Kent, but it's all my wife and I had on this trip. When I learned that our flight to Holland for a biking holiday was routed through Gatwick, I decided that we would break the trip with a few days in England's self-proclaimed "Garden of England". We had been to the southeast a number of times, but never in spring. I could not pass up this opportunity and planned an itinerary that focused on gardens.
I have a hopelessly romantic image of England that dates back to our residence in the north Cotswolds during an idyllic sabbatical year in the 1970s. No matter what I have encountered on subsequent trips, the haloed image remains. On each return visit, almost every year now, I still expect green fields and lambs, pretty stone villages with thatched cottages, small shops staffed by polite, smiling owners, teabag-less tea, and an uncrowded, unhurried pace.
The image was tested immediately on leaving Gatwick. Driving eastward on the two-lane A264, we plunged into a traffic jam that stretched for miles in front and back. I turned south, hoping that the other drivers were single-minded in reaching their destinations on the A264.
We left the traffic behind and drove through the pretty countryside on small roads. We stopped in Crowborough for a relaxing walk and lunch at the pleasant "Sherlock Holmes" cafe. Carol, my wife, had seen a sign at the town entrance which stated that Arthur Conan Doyle had lived in the town. Following the directions given us at the tourist information office, we found the house. It is now a convalescent home.
So on to our investigation of Kent gardens. After a couple of miscues we found half-timbered Owl House and Gardens near Lamberhurst. We saw nothing there of any great interest, nor anyone to ask about the property, so we continued. Perhaps the cold, heavy overcast influenced our judgment. On we drove to Scotney Castle Garden to find that it is closed on Tuesdays. We drove on to Great Dixter at Northiam and finally scored.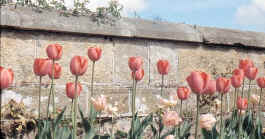 The gardens at Great Dixter, reportedly among England's best twentieth-century gardens, were a bit late this year—a light snow had fallen two weeks before our arrival in late April 2000—but there were plenty of wildflowers and primroses, forget-me-nots, roses and clematis, and a great variety of tulips and daffodils. This is the home of Christopher Lloyd, prolific author of books on gardening. The house, a happy union of an old manor house, dating from the 1450s, and a derelict sixteenth-century timber house that had been moved here, is very interesting and may be visited by guided tour. The restoration and enlargement of the house and the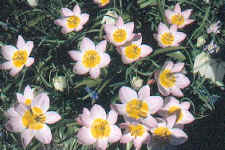 design of the gardens were by Edwin Lutyens, noted architect of country houses and an expert on the wedding of houses and gardens.
Our spirits lifted now by Great Dixter, we drove to Biddenden, which I remembered fondly from a previous trip, especially Claris's, a fifteenth-century tea room. We found a B&B at the edge of the village. The Malt House, an attractive home with a Victorian interior and set in pretty gardens, is owned by Wendy and Mike Conway. Our room, actually two rooms connected by a large arched opening, was decorated in pink, dark rose and green with lots of frills and wall hangings.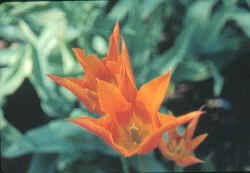 We walked into the village, pausing at the signpost that commemorates the early twelfth-century Biddenden Maids, twins who were joined at the hip and shoulder, then strolled along the High Street where many of the shops and weavers' cottages are designated Ancient Monuments. We walked in the well-tended cemetery of All Saints Church, dating from Saxon times. A cold rain began to fall just as we reached the Red Lion, a fifteenth-century coaching inn, and we were glad to find the pub warm and uncrowded. We sat at a table near the fireplace and enjoyed our dinner, scampi for me and lasagna for Carol. Dinner for two, including wine, was less than £15. Then back to The Malt House and bed. We had not slept more than a few winks since leaving San Francisco.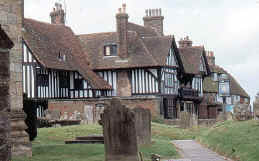 After a delicious and ample breakfast and good conversation with owner Wendy and an English-Canadian couple and their relative from Bournemouth, we were off. We drove to Goudhurst, a pretty village of shops, tea rooms, a sturdy half-timbered pub, and a delightful little grocery that will warm the heart of any who hold dear the values of village England. We walked up to the church at the top of the village but could not get in since a service was being held. The only thing that disturbed the scene was the main road, carrying steady traffic, that runs right through the middle of the village. Happy is the village whose road skirts the center.
We were lucky that Scotney Castle had been closed on gloomy, drippy Tuesday. Today we were at the gates when it opened and walked through the grounds on a balmy, sunny day. We had never been to Scotney and enjoyed it immensely. The romantic fourteenth-century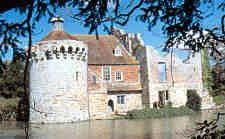 castle, mostly in ruin, is set in a moat that looks more like a lake. Paths run through the beautifully landscaped grounds of woods, lawns, and flowers. We walked in the hillside Quarry Garden, a moist and shady site for azaleas, ferns, primroses and daffodils, then down paths to the castle. We walked around the lake for a variety of views, including the distant "new castle," actually an early nineteenth-century country house, on high ground overlooking the moated castle. Scotney Castle Garden is often overlooked by visitors to the region, and that is unfortunate.
Before leaving Scotney, I asked at the National Trust booth at the entrance for the opening times of Sissinghurst, our next destination. I explained to the attendant that I could not find information on Sissinghurst in any of the National Trust literature. She smiled. "They have left it out on purpose," she said, "a bit naughty, isn't it?" Sissinghurst is so popular that the National Trust is trying to steer visitors to other NT properties by pretending in its literature that it doesn't exist. Don't be put off by this understandable subterfuge. Sissinghurst is open and is enjoyable at any season.
Buy your tickets immediately on arriving. The tickets will show the time block when you will enter. The timed ticket system was instituted because the gardens of less than six acres can accommodate a maximum of four hundred persons at a time. If your entry is delayed, walk around the corner to the Granary Restaurant for lunch or tea. We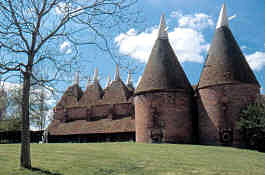 sat at a table at the window and enjoyed the sweeping view of the countryside during our lunch of leek and potato soup and salad, less than £10 for the two of us. When you go into the grounds, climb the tower first for Vita Sackville-West's study and a panoramic view of the gardens from the top. Created by Sackville-West and her husband, Sir Harold Nicolson, the garden is actually a series of small enclosed areas, each focusing on a particular type of planting. Walkways are surfaced and narrow. If time permits, take a walk on one of the marked public footpaths in the 462 acre estate.
After the brilliance of Sissinghurst, we now embarked on a series of disappointments. We failed to find a nice tea room, finally settling on ice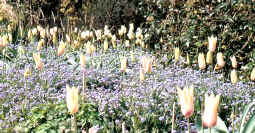 cream bars at a plant nursery where we used the telephone, also without success. I called a B&B that had been recommended to me, only to find that it was no longer a B&B. I called another; it was full. We drove toward Leeds Castle, tomorrow's destination, but found no B&B en route. Finally, on a back road near the castle, we found the Valley View Guest House outside Otham. The proprietor was pleasant, and the room, located in detached converted stables, though small and basic, was clean and comfortable.
The proprietor gave me directions to an ATM and recommended a pub for dinner. We found the ATM, with mixed emotions. I needed the cash, but I did not need the shock to my vision of tranquil village England. The ATM was located on the wall of the largest Safeway I have seen anywhere. Not just in England—anywhere. It was as large as a small town, and the inhabitants were as frantic as supermarket-goers anywhere. The pub was a disappointment as well. It was smoky, the recorded music put my hearing at risk, and the fare was not exceptional. And I left my cap. It was still there when I returned the next morning.
Breakfast at the B&B was an experience. There had been no mention of breakfast the previous evening, so we thought 8:00 a.m. a reasonable hour. It required a good five minutes to unlock the outer door of the stables building. Carol and I walked over to the house where we were to have breakfast. It was dark, and no one responded to my knock. We went back to our room for a half hour, then returned. The breakfast was good and ample, and we enjoyed conversation with an English-Canadian couple, also guests in the stables.
We arrived at Leeds Castle in a light rain. We took the winding scenic path through the Duckery and past the Wood Garden and Pavilion Garden to the castle. But not in the castle. The posted opening time of 10:00 lies, or at least, it is misleading. The grounds open at 10:00; the castle opens at 11:00. No matter. I sometimes think I prefer tea to castles anyway. We walked in the rain around the moat to the Terrace Room, a pleasant café for teas and lunches. I sat down for a nice tea and pastry while Carol opted to go to the aviary.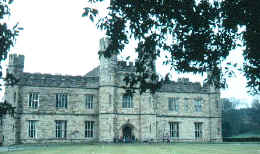 On her return, we entered the castle. I found it interesting, well-preserved and presented, its historic importance explained, the stewards attentive and efficient. And disappointing. Perhaps I expected too much. Perhaps I had believed Leeds Castle's own claims. On the contrary, Leeds Castle is not "the loveliest castle in the world," as its literature invariably states. Nor is it the most romantic castle, another claim. I was put off by the Duckery, the golf course, Dog Collar Museum, aviary, conference rooms, the exhibition tents, and the special events calendar. In fact, Leeds Castle is an ambitious, successful commercial enterprise, with an historic castle, whose interior is mostly modern, as its centerpiece. It is unfortunate that it is not a National Trust property.
Our next stop was Ightham Mote. I had heard of this National Trust property for years, but had never seen it. I was intrigued by reports I had read by three or four people who had tried unsuccessfully to find it. Indeed, I wasted a half hour going down wrong lanes and tracks before locating it. Even Cromwell's soldiers, searching for the Mote, lost their way in the dark woods and looted a nearby house instead.
Ightham Mote is a jewel. It is a moated manor house dating from the early fourteenth century. It is made up of a closed square of stone and half-timbered buildings surrounding a cobbled courtyard. The house has retained most of its original appearance and character because it was from the first self-sufficient and self-contained by its moat and the limited means and ambitions of its owners. It was owned by country squires, knights, sheriffs, MPs, courtiers, and businessmen, never royalty. The changes made to the house were done for comfort and convenience. If additional space was needed, it was constructed on land across the moat. Today the outbuildings house the gift shop and tea room. Fifteenth-century half-timbered stables have been converted into holiday cottages that are available for let.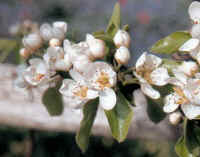 Beside the cottage row are a series of gardens, smaller versions of the original extensive gardens, lawns, and woods on the estate. A kitchen garden furnishes vegetables and flowers for the Mote. The orchard contains mostly apples. Other gardens feature fountains and pools and a great variety of plantings for seasonal show. A walk around the gardens and beyond the upper lake gives nice views of the house.
The last owner of Ightham Mote was an American, Charles Henry Robinson, who bought it in 1953 and lived here until his death in 1985. The property passed that year by his will to the National Trust. Parts of the property were open to view during the succeeding years of reconstruction, but it has been fully open to the public only since 1998.
Nikolaus Pevsner in The Buildings of England calls Ightham Mote "the most complete small medieval manor house in the country." This claim I will support and add that it is also the oldest and loveliest. Don't miss Ightham Mote.
We left Ightham Mote at closing time, 5:30 p.m. I was so pleased with the visit that I had not given any thought to the last chore of the day, finding a B&B. Now this is very important to me. Finding a good B&B ends the day well and sets the tone of my evening and the opening of the next day. A bad B&B experience ruins my day, and thereby, my wife's.
We had to be at Gatwick at 1:00 p.m. the next day for our flight to Amsterdam. We had decided to visit Penshurst Place and a nearby National Trust Tudor village in the morning so wanted to find accommodation in the vicinity. Upon leaving Ightham Mote, we drove country lanes in the general direction and immediately began looking for a B&B. Nothing. I don't like to book a room without seeing the house, but at 6:30 p.m., I pulled off the road and consulted the accommodation brochures. I was intrigued by a listing near Penshurst—"Medieval and Tudor family home in extensive, peaceful grounds." I telephoned and booked. The landlady's directions seemed straightforward, but I had to call again en route.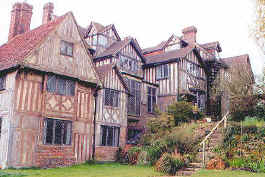 Hoath House was the find of the entire trip. Built on a gentle slope, the huge house displays different architectural levels and styles. As Mrs. Streatfeild led us through the labyrinth of rooms, she commented on the house: "this is the medieval great hall . . . this is the Tudor section . . . this part was added in the early twentieth century . . ." After a climb of exactly forty-six steps and seven landings, we reached our room at the top. It was a large room with a view through bay windows of the lawn and countryside. Our room and another on the same level share a bathroom the size of an average bedroom.
At Mrs. Streatfeild's recommendation, we had dinner at The Bottle House Inn, a fifteenth century pub at Smarts Hill, a few miles down the road. This pub has the best menu and the best food I have encountered in pubs in quite some time. The ambiance and service are equally attractive. While waiting for our meal, Carol and I examined the owner's interesting collection of gravy boats and soup tureen covers, hanging from walls and ceilings. Dinner for two, including wine, £17.45. Gordon and Val Meer, proprietors. Highly recommended.
Breakfast at Hoath House was in the small "great hall," long ago divided vertically into two rooms. The mammoth fireplace in the lower dining room was about twelve feet wide, five feet high and four feet deep. There were no other guests, and Mrs. Streatfeild stayed and talked with us. Her husband's family have been in the area for a few hundred years. His ancestors built nearby Chiddingstone Castle and lived in it for many generations. In large part, they owned Chiddingstone village, now a National Trust property.
Hoath House is a convenient base from which to tour nearby Penshurst, Hever Castle, Ightham Mote, and Chartwell. It's also an easy drive to Gatwick.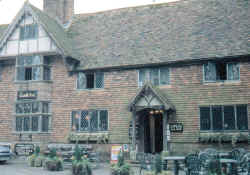 Leaving Hoath House, we drove the few miles into Chiddingstone village. The buildings date from the fifteenth century. Illustrative of the authentic appearance of the village, many films have been made here, including notably those starring Glenda Jackson as Queen Elizabeth. Many plaques and brasses in St. Mary's Church attest to the leading roles of the Streatfeild family in the history of the village. Today the village is home to a number of artists, and there is an annual art exhibition. We had hot cross buns at a nice tea room just off the High Street.
Our Kent holiday ended, and much too soon. We'll be back. We had made some fortunate discoveries. Malt House B&B, Biddenden, Wendy Conway, tel. 01580-292474. £44 double. Recommended. Valley View Guest House, Otham, 01622 862279. £40 double. The B&B's proximity to Leeds Castle is its principal advantage. Hoath House, Chiddingstone Hoath, Edenbridge. Mrs. Mervyn Streatfeild, 01342 850362, jstreatfeild@hoath_house.freeserve.co.uk. £45 double. Highly recommended. I was very pleased with the service and car that I rented on the internet from Alamo, a new Peugeot 363 LX, efficient checkout and check-in at Gatwick. £129.53 total for four days.
In this short holiday, we had to be very selective, and I should note one opportunity that we did not have time to exploit, which we shall surely do on our next trip. There are many wonderful private gardens all over England and Wales that are open for charity. For information, including descriptions and opening times, see http://www.ngs.org.uk, or write to ngs@ngs.org.uk, or to the National Gardens Scheme, Hatchlands Park, East Clandon, Guildford, Surrey GU4 7RT, England, U.K. Ask for specific information on gardens in Kent and Sussex.
By the way, the brief stopover in England confirmed an opinion formed some time ago, that I prefer Gatwick so much more than Heathrow, which becomes more difficult every time I fly through it.
The author will respond to questions or comment by email. Also see the author's web site.
---
Caveat and disclaimer: This is a freelance travel article that I published some time ago. Some data, especially prices, links and contact information, may not be current.
---