MADEIRA: EUROPE ON A SMALL ISLAND
Harlan Hague
Travelers are forever searching for new places and new experiences. American tourists, though fortified with their strong dollars, have not yet discovered one of the newest, oldest destinations. It is tropical, it is European, and it is marvelous: the island paradise of Madeira.
The Madeira archipelago includes the main island of Madeira, the smaller Porto Santo and the uninhabited Desertas. Located about 400 miles off the coast of Morocco and 700 miles from Lisbon, Madeira's discovery in 1419 by an expedition sent out by Prince Henry of Portugal proved that ships could sail safely out of sight of land. The islands are still Portuguese.
One of the most successful pupils of Henry's school of navigation was Christopher Columbus. Not too many years before his epic voyage to the western hemisphere, Columbus called at Porto Santo and tarried long enough to marry the governor's daughter. The house where Columbus reputedly lived is still there, though it is not marked.
Madeira was named after the dense forests that once covered the island. Most of the forests are long since gone, replaced by a lush flora, native and imported, as varied as can be seen anywhere in the world. The colorful array includes the blue-flowering jacaranda, the tropical hibuscus, and many varieties of orchids. The Bird of Paradise flowers in the mild climate all year. The very atmosphere of Funchal, the main city, seems to be perfumed by the exotic mix.
Madeira is a small island, thirty-five by thirteen miles. The population Is 300,000, but the island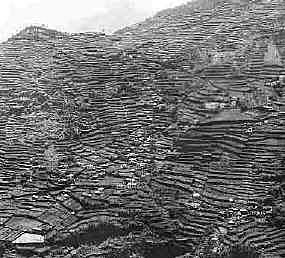 does not seem crowded. Outside Funchal, where about one-third of the people live, the terraced hillsides grow sugar cane, vegetables and fruits and, most of all, grapes for the hearty wine that has been popular for centuries with people who never heard of the island.
Madeira, the wine, comes in four varieties and is best sipped before and after dinner. You will be encouraged during your visit to become a connoisseur of the madeira grape.
Funchal is the place to start your Madeira holiday and, for most visitors, the place to stay. It is a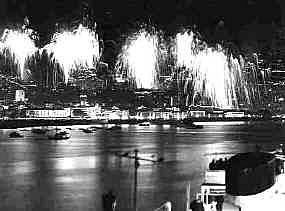 popular port of call with cruise ships which usually remain only one night. The result is some rather frantic playing and shopping. That's unfortunate, for Madeira should be enjoyed like its wine, slowly, leisurely.
There are the usual coach tours and taxis for sightseeing, but on the seaside Avenida do Mar, try the bullock-drawn carts piloted by white-suited men wearing straw hats. Or ride in a gleaming, classic open-top touring car. The best way to see Funchal, though, is on foot. Buy a walking-tour guide and stroll. The sidewalks, mosaics of small pebbles, are themselves a delight.
You will want to visit the Museu de Arte Sacra (Sacred Art Museum) and the Se, Portugal's first overseas cathedral, dating from the fifteenth century. Walk through the nearby Jardim de Sao Francisco, a lovely municipal park.
If you fancy museums, walk up the hill to the Museo Municipal, a natural history museum, and don't miss the Quinta das Cruzes. The latter houses a fascinating assortment of paintings, furniture and porcelain. The museum=s gardens are equally interesting.
If you want to catch something of the essence of the life of the local people--and this is true all over the world--visit their market. In Funchal, this is the Mercado dos Lavradores (workers' market). Vendors offer fruits and vegetables and fish, and not a little animated conversation.
There are two gardens in the hills above Funchal that no visitor should miss. If you could see only one garden during your stay--alas, that you should be so unfortunate--it should be the Botanical Gardens. Its terraced beds and greenhouses probably include every tree, plant and flower found in Madeira. The other, Quinta do Palheiro Ferreiro, is a private estate, but it is open to the public.
A popular tour from Funchal goes higher in the hills to the Curral das Freiras ("nuns' shelter"), a volcanic crater where, according to a sixteenth-century story, a group of nuns took refuge from pirates who were pillaging Funchal. The tour then visits the picturesque eighteenth century church at the village of Monte, Igreja de Nossa Senhora do Monte, dedicated to the patron saint of Madeira and thus a place of pilgrimage.
From Monte, most visitors ride the famous toboggans down the hill to Funchal. Stories still circulate about the two-person wicker sleds on wooden runners careening wildly down steep, slippery roads, like a cobblestone bobsled course, but the ride is quite safe. Each toboggan is guided by two professionals who skillfully control speed and direction. They haven't lost any tourists yet.
There is more to Madeira than Funchal, and an excursion that includes glimpses of the interior and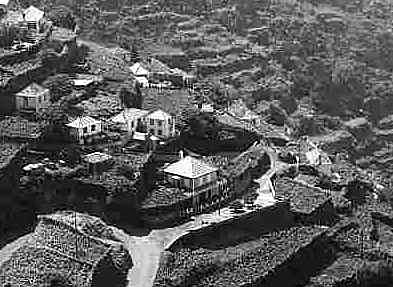 coast is most rewarding. You will see neat, terraced fields and quiet hill and coastal villages that contrast sharply with busy Funchal. In springtime, wildflowers outline the road. For an excellent lunch on the north side of the island, stop at Casa de Chir do Faial in Faial. If your route takes you through Camacha, visit the factory where delicate wicker furniture, an island specialty, is made.
For the most part, the best shopping is in Funchal. In addition to wicker products and wine, embroidery Is a good buy. It is almost all hand done in cottages throughout the island. The same goes for the intricate tapestries, mostly copies of familiar paintings.
For those who come to Madeira for sun and relaxation, Funchal offers sailing and water skiing, golf, fishing and swimming. Madeira has no beaches to speak of. Swimming is principally in hotel pools. To lie on a proper beach, you must go to Porto Santo.
Funchal's night life centers on the hotel lounges and clubs. There is a casino that is a bit tame for those who have gambled in Las Vegas or Reno, but fun nevertheless.
Dining is a favorite pastime here, and for good reason. The most jaded palates are revived in Madeira. You must try espada, the eel-like scabbard fish, prepared a number of ways. Another specialty is espetada, beef grilled and served on a skewer. Loaves of round, crusty bread brought fresh and hot to the table, is heavenly. For dessert, try bolo de mel, a honey cake with nuts, spices and fruits.
Prices are surprising: a la carte entrees from $2.00 to $4.00 in most restaurants, full dinners as low as $5.00. Local beer is $.35, a martini madeira wine $.64, scotch $1.00. Prices are higher in the most elegant hotel restaurants, of course. If you would like to be pampered, dress for dinner at Reid's. Otherwise, try some of the many fine restaurants about the city, such as Restaurante Tipico Abrisa, a $1.00 taxi ride high in the hills above Funchal, Chafariz In the center of Funchal and frequented mostly by Madairans, and Ca Te Espero, small and hidden on the hillside above the Reid Hotel.
Having welcomed tourists for over a century, Madeira has accommodations to suit all tastes. The new Sheraton features modern, sparkling luxury. Reid's Hotel is older and has an old-world charm about it. The rates for a double at the luxury hotels range generally from $50.00 upwards. If you prefer a smaller hotel, less formal, try the Quinta da Penha de Franca. This is an old Portuguese house set in its own garden. Some of the rooms have kitchenettes. The price for a double room, including breakfast, is $29.49. There are perfectly satisfactory lodgings in Funchal for less.
Indeed, the low prices in this bit of Europe make Madeira doubly attractive. You can have the best of two worlds--Europe and the tropics--in the same place, inexpensively. Because of its lush vegetation and its equable climate, Madeira has been compared to Hawaii. Now, a great number of Americans have visited Hawaii. Few have visited Madeira. In fact, a two-week holiday in Madeira is probably less expensive than a comparable two weeks in Hawaii, including air fare.
---
Caveat and disclaimer: This is a freelance travel article that I published some time ago. Some data, especially prices, links and contact information, may not be current.
---