PUERTO RICO EN ROUTE
Harlan Hague

Puerto Rican tourist authorities do a fine job. They publish seductive materials that picture an island paradise, complete with palm trees, rain forests, sparkling beaches and coral reefs. But for some reason, American travelers are missing the message.
For most Americans who travel to the Caribbean, Puerto Rico is one of the two places--Miami is the other--where one changes planes for a flight to the West Indies. I plead guilty. I passed through San Juan at least a half dozen times before I left the airport. Then one happy day, my flight schedule required that I overnight in San Juan. Since then, I have not passed through Puerto Rico without stopping for a few days in at least one direction.
When one stops over in Puerto Rico en route to another holiday spot, one gets two destinations rather than one. Next time you schedule a Caribbean holiday, tell your agent to build in a layover.
If you're stopping only a couple of days, you'll likely confine your visit to San Juan, the capital and the second oldest European settlement in the western hemisphere. Plan to spend a full day in Old San Juan. Designated a World Heritage Site and a National Historic Zone, the architectural integrity of the seven-square-block old city has been preserved.
Begin a walking tour at La Casita, which houses an information center of the official Puerto Rico Tourism Company. Pick up a tour map and a copy of Qué Pasa, the official guide to Puerto Rico.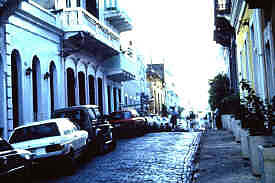 Now walk down the landscaped La Princesa Promenade under the old city wall, begun in the 1630s, which once surrounded the city. Pass through the wall at the San Juan gate and visit La Forteleza, completed by 1540, the oldest governors' residence in the Americas. It may be the most beautiful as well. Now walk up the hill through lush gardens to Casa Blanca, home for 250 years to the family of Ponce de León, first Spanish governor of Puerto Rico. Interesting for itself, the building now houses a museum of 16th- and 17th-century Puerto Rican family life and displays of Taino Indian culture.
Head across the open field for the centerpiece of Old San Juan: El Morro. The massive six-level fort, completed in 1771, was built on the headland where it could guard the harbor. The site is administered by the National Park Service and may be visited daily from 9:00 a.m. to 5:00 p.m. There is a small museum. Watch your hat on the battlements. The wind is always fierce on the point.
Return to the town, still following the walking map. With only a little imagination, you will find yourself in the old world, with a hint of New Orleans French Quarter. Shops and houses of stone construction crowd the street. Colorful doors and intricate wrought iron work on balconies and windows add to the charm of the streets. Visit at least two of Old San Juan's historic churches. San Juan Cathedral, begun in 1540, is noted for its Gothic ceilings and late medieval architectural styles. Ponce de León's tomb is here. The San José Church, on the San José Plaza, is the second oldest church in the western hemisphere. It was the family church of Ponce de León's descendants.
Other historic buildings front the plaza. The Dominican Convent, dating from the early 1500s, is slated to become San Juan's museum of fine arts.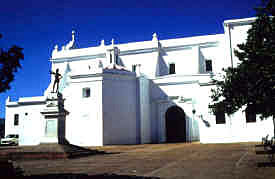 On the other side of the plaza, the Pablo Casals Museum houses memorabilia of the famous cellist. Ponce de León's statue in the center of the plaza faces another point of interest to the weary walker, El Patio de Sam. A good spot for lunch or dinner. A guitarist often plays in the evening. Also recommended: Amadeus, a fine restaurant, a couple of doors down the street.
The walking tour of Old Town requires about four hours, including time to enter sites. Better, stretch the tour to a full day, allowing time for morning coffee, lunch, and tea or wine in the late afternoon at a sidewalk cafe. This leaves ample time for browsing in the multitude of pleasant shops along the route and time to stroll in the many plazas and parks of the old town. Wear comfortable walking shoes. Most streets are paved with cobbles. The blue stone, cast from furnace slag, was brought to San Juan as ballast in Spanish ships.
If you prefer a more laid-back sightseeing of the old town, ride the free open trolley buses. Ask at the La Casita Tourist Information Center. Or see the coast of Old San Juan by ferry or tour boat. Boats leave from pier 2 near La Casita. If you take the Cataño ferry, visit the famous Bacardi Rum Plant, daily except Sunday. The plant is a short walk from the dock in Cataño.
Old San Juan is blessed with accommodation that perfectly complements the old city's charm. Gran Hotel El Convento is housed in what was a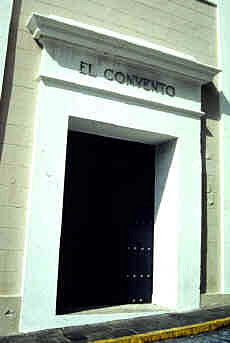 Carmelite convent from the seventeenth century until 1903. The massive wooden doors open on the small tree-lined plaza in front of the cathedral. $125-$200 high season, December-April. Pleasant, posh, pampered patrons.
On my last visit to Old San Juan, I discovered Galería San Juan and found my watering place. The Galería is not so much an inn as an institution. It is a combination art gallery, museum, home, and studio that has a few rooms for paying guests. Dating at least from the eighteenth century, the derelict Spanish colonial house was purchased in 1961 by artist Jan D'Esopo. She and her husband, Hector Gandia, restored the house, one of the first restoration projects in Old San Juan. D'Esopo thinks that parts of the house may be sixteenth century.
"She lies," her husband said.
There may be ghosts, she added.
He smiled.
Located on Norzagaray Street overlooking the ocean, the wall of the inn hides the cool interior. There is no sign. Inside, tile-paved patios are crowded with ferns and philodendron, flowers and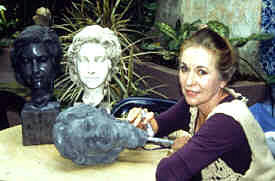 palms. Each guest room is different, some along a patio, others off a second-floor covered walkway that overlooks a courtyard. Others are tucked away in odd corners. The approach to our room, named "Secret A," was through a small beamed door, a sharp right turn, then down a narrow stairway. Shutters on our window opened over a pretty courtyard below. Two large doors of heavy timbers in the corner of the room intrigued me. I would not learn what mystery lay beyond. They were locked.
Born and educated in the United States, Jan D'Esopo is one of Puerto Rico's leading artists. She is active in promoting the arts in the island, and famous artists often visit the Galería to create and give workshops. D'Esopo's paintings hang on walls, and her sculpture may be seen on walls and in courtyards and gardens. The house is furnished with antiques. There is so much to see here that one might be tempted to neglect Old San Juan. Resist the temptation. This is a place to come back to. $85 up. Elegant dinners can be arranged for groups. Coffee and tea and homemade breads are available in the morning. Ask also for directions to the nearby bakery for breakfast.
If you have more than a couple of days in Puerto Rico, rent a car and drive into the countryside. The island is about 110 by 35 miles, approximately the size of Connecticut. One day, we drove to the east coast, then westward on the scenic interior route, then north to the coast and back to San Juan. A two-day drive would be preferable, spending a night in a parador or rural inn.
For materials on attractions and accommodations, contact the Puerto Rico Tourism Company, #2 La Princesa Drive, P.O. Box 4435, Old San Juan Station, San Juan, Puerto Rico 00902, telephone (800) 22 3-6530. Welcome To Puerto Rico is a useful site. Call (800) 981-7575 for a brochure on paradores, a designation granted by the Tourist Board for rural and village inns that meet rigid standards.
Tip: American Airlines senior coupons are good for travel to Puerto Rico and St. Thomas, American Virgin Islands. A great buy.
I have a Saudi Arabian friend who is in the United States on a student visa. She wants so much to go to Europe and to the Caribbean. She is afraid to go to either, fearing that if she leaves the United States, she might have difficulty getting back in. "Go to Puerto Rico," I told her.
---
Caveat and disclaimer: This is a freelance travel article that I published some time ago. Some data, especially prices, links and contact information, may not be current.
---