WINDJAMMING
IN THE CARIBBEAN
Harlan Hague

For as long as I can remember, I have been fascinated with large bodies of water. To a small boy in flatland Texas, even a crawdad hole qualified. My first experience on water came after I helped a cousin caulk his homemade boat with tar scraped off the road. On an August day at high noon in Cleburne, street tar ran like heavy syrup. Hard on bare feet, but great for caulking. That little skiff made of scrap lumber was a wonder that I never forgot.

I dreamed broadly. I planned a float trip down the Brazos River to the gulf, canoeing in Minnesota, sailing off the Maine coast. Finally, I decided that I must sail the Caribbean.

As the years passed, I toyed with the prospect of boat ownership and sailing, but nothing materialized. A hitch in the Navy, all in the Pacific, just whetted my appetite.

The Caribbean was never completely off my mind.

The fantasy finally became real. On a frigid January day, my wife and I left California and arrived at St. Thomas in the United States Virgin Islands. I fretted, as usual, at the airport baggage claim. A porter nearby, leaning on a cart, smiled and said, "relax, have a punch." He pointed to a stand where the local rum industry dispensed complimentary rum punches. Devious.

We took the airport van and deposited our bags at the ferry terminal--a tin-roofed shed--and walked to the hotel across the street where we were meeting our group. The agent for the cruise company was sitting in the pavilion bar. After signing us in, she invited us to have complimentary "painkillers." Rum punches. Devious. The ferry ride to Tortola was most enjoyable.

We arrived at Road Town, the principal town on Tortola, just after dusk. Since we had now entered the British Virgin Islands, we queued for customs. We were only about forty people, but it required an hour to pass us through customs, and some of our group became a bit impatient. "Don't worry," a local told us, "you're on B.V.I. time."

From customs, we carried our luggage to the adjacent dock where other passengers stood by their luggage. By now, it was dark. We were facing a ride in an open launch piloted by crew members of unknown skills to the ship riding at anchor in the bay, and we were a bit anxious.

Awaiting us on the dock were rum swizzles, ladled from a yellow keg by a smiling crew member. Devious. Friendships began to form.

As the launch approached our fully-lighted ship, the Flying Cloud, we saw that it was a beauty. A real, three-masted tall ship, a windjammer. On the main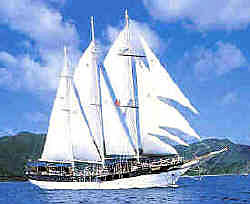 deck, we found hors d'ouvres and--rum swizzles. I began to see faces among my shipmates that I'm sure I knew from somewhere. After locating our cabin and sprucing up, we returned to the main deck for a buffet dinner and entertainment by a steel drum band from Road Town. The yellow rum swizzle keg was bottomless. Exotic and familiar drinks also were served at the topside bar. After the steel drum band finished, reggae music was provided by the bartender's boom box.
Somehow everyone found their cabins that first night. However, now that I think of it, there was a red-haired fellow on the launch that I don't remember seeing again.
I awoke surprisingly early the next morning. Following long habit, I took a shower and really woke up. I hadn't noticed before that there was only one faucet at the basin and simply a spring-loaded button to push for the shower. This was going to be a test. I remembered that the Flying Cloud was originally built as a training ship for French cadets. If a bunch of French kids could take it, I could take it.
Leaving my wife Carol asleep, I went up on the main deck, arriving just in time for one of the most profoundly moving experiences of my life. When the captain gave the order to raise sail, crew members at each mast pulled lines as the sound system began playing "Amazing Grace," first by an orchestra, then by bagpipes. As the sails filled and a light breeze blew full in my face, the sun appeared over nearby St. John Island, coloring the thin cloud layer orange and pink. Making sail every morning was almost a spiritual experience, but I never quite got over that first day.
The revered old hymn has a close association with the sea. It seems that John Newton, a notorious English slave trader in the mid-eighteenth century, converted during a raging storm at sea. Subsequently, he became an Anglican minister and wrote "Amazing Grace." British sailors have always had a special fondness for the song.
After getting underway each morning, with only a handful of the seventy-six passengers on deck, breakfast was served informally in the wood-timbered and paneled lounge. About 9:30, all gathered on the deck near the bar for captain's "story time." The captain sat on the back of a bench, coffee mug in hand, and like most of the twenty-five crew members, barefoot and wearing shorts.
Story time was the captain's opportunity to tell about what was happening that day: route and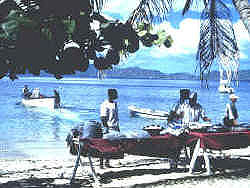 sailing time to the next island, schedule for the launches, suggestions on what to do on the island,whether meals were to be taken on board or a buffet on the beach, and anything else that he wanted to talk about, including sometimes a few bad jokes.
At story time on the first morning, the captain talked about shipboard routine and introduced the crew. Someone asked the captain how we should address him. He replied that windjammer cruises are very informal and that he wished to encourage a pleasant, congenial atmosphere. We should address him, he said, as "Captain--SIR!" and he would call us any name he liked. He also introduced the ship's cat, a playful little thing that was obsessed with chasing cracker or cigarette cellophane wrappers around the deck. Her name was "Isis," but the crew usually called her "Cooking Fat," or, in the local dialect, by a name which reversed the initial letter of the two words.
The West Indian dialect is, at the same time, familiar and foreign. The perplexed tourist often asks: "What language is that?" In fact it is English, but with words and expressions from a number of other languages. Syntax and emphasis also are different. But don't worry, mon, the language is perfectly delightful, and when West Indians laugh, you'll want to laugh too, even if you don't understand a word.
Daily routine was whatever one wished it to be. There was no social chairman and few planned activities. Underway, we simply relaxed, lay on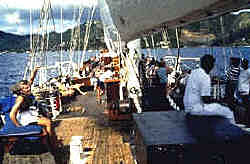 deck, in sun or shade, reading or meditating. Some continued to enjoy these pleasant pastimes at anchor, typically off a secluded beach. Occasionally, we swam off the ship. At other times, we took a launch ashore to swim and snorkel. Scuba divers--I passed--were picked up at the ship by a dive agency.
Tours were available on some of the larger islands. On Virgin Gorda, we were treated to a drive around the island in open buses, carrying about twenty-five persons each. At the highest point of the drive, we stopped for the view--and the yellow keg which had preceded us. From the peak, one could see the whole of the island, with the Atlantic Ocean to the east and the Caribbean westward.
One could also see the sharp switchbacks that we would have to negotiate on the return to the anchorage. Someone howled at the driver who, like the rest of us, was sipping punch from his paper cup. Only punch, he said, no rum. Promise! During the descent, when he began to sing in a falsetto voice and to conduct a two-way conversation with himself over the public address system, I began to doubt his promise.
At story time next morning, someone asked the captain the origin of the name, Virgin Gorda. The captain explained that it was named by Columbus because the island looked like a fat virgin lying on her back. The questioner said that the island didn't much look like a virgin lying on her back. The captain replied that Columbus had been at sea so long that anything would look like a virgin lying on her back.
On the last evening of the cruise, the ship was fully dressed for return to its home port and in preparation for a wedding. Carol and I had met the engaged couple in St. Thomas and had served as witnesses when they secured their license in Road Town before the cruise. I was privileged to serve as best man. We were all barefoot, all except the female official from Road town, that is. She wore high heels. On-board weddings have since been discontinued.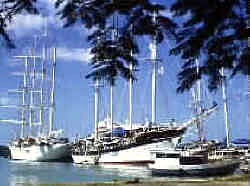 A number of companies offer a sailing experience in the Caribbean. We sailed with Windjammer Barefoot Cruises, Ltd., with offices in Miami Beach. In addition to the Flying Cloud, other Windjammer tall ships sail throughout the West Indies. Price for the standard two-person cabin on a Monday- Saturday cruise is $825 each. Board on Sunday and pay a stowaway charge. The Sunday evening dinner and party, with live island music, is not to be missed. At $45, this must be the best bargain in the western hemisphere. One can also book a thirteen-day passage for a traditional tramp steamer experience aboard the company's supply ship, Amazing Grace, which calls at ports from Freeport to Trinidad.
Sadly, since this article was published, Windjammer Barefoot Cruises has gone with the wind. Too bad. It was my favorite kick back holiday.
---
Caveat and disclaimer: This is a freelance travel article that I published some time ago. Some data, especially prices, links and contact information, may not be current.
---