Home
Tours
Writing
TravelArticles
Search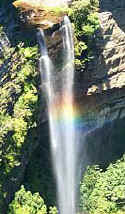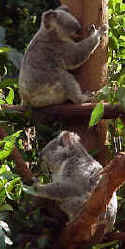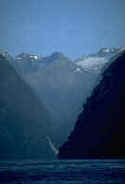 Americans have long been fascinated with Australia and New Zealand. They and the United States share a common heritage. The three countries were outposts of the British Empire, founded for different reasons but all with the expectation of benefit to the mother country. With the common purpose of self-determination, the three separated in different fashions, eventually forging close ties with Britain and each other. American soldiers and sailors who visited Australia and New Zealand during World War II told about their experiences there with the fondest memories. Since that time, growing numbers of their descendants and compatriots have visited these countries that seem so similar, but have such different landscapes and cultures.
During our tour, we will sample the best of both countries. Most first-time visitors are surprised to learn that Australia is approximately the same size as mainland United States. Distances are great, and we'll focus on eastern and central Australia. We'll see the bustling, modern city of Sydney, enjoy the laid-back delights of Cairns and vicinity, and visit the legendary Alice Springs and the haunting Uluru in the Outback. On a number of occasions, we'll have an opportunity to examine the cultures of Australia's Aborigines.
Our tour of New Zealand begins in Auckland, the country's economic and cultural capital that is also blessed with a pleasant summer climate, an abundance of beaches, and a bay and islands that are enjoyed by the city's large fleet of pleasure boats. Still on the North Island, we'll look at New Zealand's farming history, visit Whakarewarema thermal area, and look at native Maori cultures. On the South Island, we'll tour Christchurch and the forests and glaciers of the Southern Alps. Then we'll look at some of the many attractions of the region around Queenstown, including Milford Sound and Mt. Cook National Park.
And that's just the beginning . . . . .
---
The Itinerary
November 3-5 Los Angeles-Sydney
We depart Los Angeles in late evening, fly overnight, and arrive in Sydney in the morning two days after departure. Confused? We lose a day crossing the international dateline. Not to worry. We'll recover it en route home. This first day will be free to relax, go out if you wish, and adjust to a balmy climate after departing in mid-autumn.
Hotel Ibis, Darling Harbour, Sydney B,D
November 6 Sydney
This morning we have a guided tour of the renowned Sydney Opera House. Derided by early critics, its sail-like roof has become Sydney's symbol. This afternoon, we depart Port Jackson for a cruise in the bay, passing under Sydney Harbour Bridge, past the opera house, white sand beaches, and exclusive residential districts. This evening our guide will comment on tomorrow's free time and give us some suggestions about the possibilities for the day.
Hotel Ibis, Darling Harbour, Sydney B,D
November 7 Sydney
Today is a free day to explore Sydney's attractions on your own. We'll have ample advice from our guide and from materials available locally. Consider the unlimited day pass on Sydney transport, which includes buses, ferries and trains, at AU$13. The harbor ferry is especially nice on a fair evening, and there are scenic bus rides. You may wish to do some research on your own before departure.
Hotel Ibis, Darling Harbour, Sydney B,D
November 8 Sydney-Blue Mountains


This morning we drive by coach westward to the Blue Mountains, named for the blue haze created by the eucalyptus oil in the air above the mountain gum forests. The Blue Mountains National park includes almost 600,000 acres of sandstone plateau, forested river valleys and deep gorges. We'll visit the Wentworth Falls Reserve for a short walk and spectacular views of the valley, followed by a drive along Cliff Drive to the Echo Point Visitor Information Center where we will see colorful parrots, lorikeets and rosellas, which gather at the center's panaramic windows. We'll also see galahs, a cockatoo with pale blue-gray plumage and a pink breast. (Take care: locally, galah is also Australian for "fool".) There is a nice view here of The Three Sisters formation, in legend members of the Katoomba tribe that were unlucky in love. We take a ride on the nearby Skyway over the Jamison Valley toward the Cliff View Lookout. There will also be time for an optional 30-minute ride on the Scenic Railway, originally part of a mine operation. The ride down to the Jamison Valley is reputed to be one of the steepest in the world. Later this afternoon, we'll enjoy a pleasant, easy bush walk at Berghofers Pass, Mt. Victoria.
Best Western Alpine Motor Inn, Katoomba B,D
November 9 Blue Mountains-Alice Springs
Early this morning we travel to the Sydney Airport for our flight to Alice Springs, which lies at almost the exact geographical center of Australia. Neville Shute's 1950 novel, A Town Called Alice, and the movie based on it, put Alice Springs on the international map for the first time. Today's town of 30,000 has all the modern amenities, but a drive to the outskirts quickly reminds one that this is one of the loneliest places on earth.
Our tour today includes the panoramic view from Anzac Hill, the Old Telegraph Station, the School of the Air and the Royal Flying Doctor Service. This evening we'll enjoy an outback meal at Bojangles Restaurant.
Lasseter's Hotel, Alice Springs B,D
November 10 Alice Springs-Uluru-Yulara
Today we travel over the MacDonnell Ranges and cross the vast desert known as the "Red Centre" on our drive to Uluru, commonly called Ayers Rock. Uluru is an incredibly impressive monolith, 3 miles long and 5.5 miles in circumference at the base. Towering 1,143' above the plain, the rock is honeycombed with caves, some of which are still used for tribal ceremonies. Uluru is a remnant of an ancient mountain chain which long ago weathered away, leaving the solitary sandstone monolith. British explorers trekked through the Red Centre as early as 1844, but none visited Uluru until 1873 when it was named after a colonial administrator. Today the formation is increasingly known by the Aboriginal name.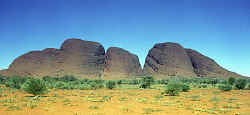 Following our mid-afternoon arrival in Yulara, where our hotel is located, we drive to Kata Tjuta, a group of rounded red conglomerate rock masses rising from the plain, where we will take a short walk of less than two miles toward the gorge flanked by stone walls. Named the Olgas by the British, the rocks are sacred to the Aborigines and figure prominently in their legends about the Dreamtime.
Desert Gardens Hotel, Yulara B,D
November 11 Yulara/Uluru-Cairns
Early this morning we return to Uluru to view the sunrise and visit the Aboriginal Cultural Centre. Afterwards, we'll take a short walk or two at the base of Uluru, probably to Mutitjulu (Maggie's Spring) and/or the Mala Walk. Walking at the base of the rock is a very special experience. Instead of the walks at the base this morning, you may choose to climb Uluru.
Note: There is a debate about the wisdom of climbing Uluru. The "official" statement of the Aborigines asks visitors to respect Uluru by not climbing it. However, about two-thirds of the admission price to enter Uluru-Kata Tjuta National Park goes to the local Aborigines, which is a huge source of income for them. Hundreds of visitors daily climb Uluru.
Climbers should wear sturdy, non-slip soled boots or shoes, a hat with a secure strap, long-sleeved shirt, and maximum-protection sunscreen, and carry 2-3 litres of water. It can be brutally hot, even in the morning. Group members with high or low blood pressure, heart and/or breathing problems, fear of heights, tendency to fainting or dizziness, should not attempt the climb. Note also that weather conditions, whether heat, rain, or wind, can cause cancellation of climbing.
We return to Yulara for a late breakfast, and then we fly from Yulara to Cairns. Note that this is not just a hop, skip and a jump. The state of Queensland is twice the size of Texas, filling about one-quarter of the Australian continent, but with a population of only about 3.6 million people, roughly the population of Dallas.
Bay Village Hotel, Cairns B,D
November 12 Cairns-Kuranda-Cairns
This morning we drive to the Tjapukai Aboriginal Cultural Park, a complex of theatres, museum, art gallery and a traditional Aboriginal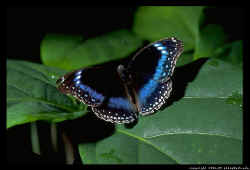 camp which combine to present a glimpse into the rich, ancient culture of the Aborigines. Afterwards, we travel by the Kuranda Scenic Railway through the dense tropical rainforest, passing Barron Falls and Barron Gorge, to Kuranda, a picturesque village set in lush tropical rainforest on the edge of the Atherton Tablelands. Market stalls display works of local artisans: crafts, art, leather goods, clothing and jewelry. In mid-afternoon, we return to Cairns by Skyrail, the world's longest gondola cableway. We'll glide just feet about the rainforest canopy, enjoying a bird's eye view of the green world below.
Bay Village Hotel, Cairns B,D
November 13 Cairns
Today is a kick-back day. Catch up, relax at the beach, visit Wild World where you will see crocodiles and tropical birds and perhaps have a chance to cuddle a koala, take a jaunt to Port Douglas or the wonderful small Botanical Gardens, enjoy birding in the Botanical Gardens or along the Esplanade, or take in any of the other delights of the Cairns area.
Or sign on for an optional excursion to the rainforests of Daintree and Cape Tribulation.

On the optional excursion, we'll have a guided walk in the rainforest of Cape Tribulation National Park. Afterwards, we'll see Mossman Gorge in Daintree National Park and make a river crossing by cable barge. A visit to Port Douglas is included. We'll stop for morning and afternoon tea and enjoy a tropical BBQ fish or steak lunch on the tree-shaded verandah of a fruit farm. There's also a private waterhole where we can swim.

We'll leave the hotel in air-conditioned 4WD vehicles at around 7:30 a.m. and return at approximately 6:00 p.m. The cost is AU$126, US$68.82 at this writing.
Bay Village Hotel, Cairns B,D
November 14 Cairns-Green Island-Cairns
We leave Cairns at 9:00 a.m. by catamaran for Green Island, a true coral cay on the Great Barrier Reef. The densely wooded island rises but two feet above sea level. Our catamaran will be tied to the wharf, and all activities are operated from the boat. You can do whatever you wish. One can view the rich sea life over the reef in a glass-bottom boat (included), cruise in a semi-submersible, stay on the boat, or walk on the island. Snorkeling is done from the beach near the wharf. Snorkeling gear is available at AU$8. Or you can exchange your glass-bottom boat ticket for a snorkelling rental ticket. The cruise company also offers a snorkelling excursion that goes to the outer edge of Green Island Reef with the Dive Team at a cost of AU$25. Diving is available to certified scuba divers. A BBQ lunch is available on the boat at AU$10. Lunch is also available on the island, but it is rather expensive. Tea, coffee and other drinks, ice cream and souvenirs are also available on the boat. Return to Cairns, arriving about 5:00 p.m..
Bay Village Hotel, Cairns B,D
November 15 Cairns-Auckland
This morning we fly from Cairns to Auckland, New Zealand. In the afternoon we have a tour of the city, which includes a panoramic view from the the top of Mt. Eden, a dormant volcano. From the peak, one can see Auckland's setting between two harbors. The tour also includes the Auckland Museum, which houses a superb collection of Maori artifacts, and the Parnell Rose Gardens.
Kingsgate Parnell Hotel, Auckland B,D
November 16 Auckland-Waitomo-Rotorua
Leaving Auckland, we drive to the famous Waitomo Caves. These magnificent limestone caverns, many of which are still unexplored, are best known for the glowworm grotto. We drift in boats through the caverns under a ceiling of twinkling lights--the glowworms. Afterwards, we drive over the Kaimai Ranges to Rotorua.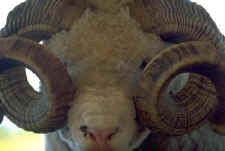 We'll visit Rainbow Springs, renown for its trout, introduced from California in 1883. We'll also see the tuatara, a "living fossil," actually a live reptile whose origins predate the dinosaurs, and kiwis. Afterwards, we'll see a show at Rainbow Farm, which demonstrates New Zealand's farming history, including a working sheep dog penning sheep and a sheep shearing. Then we visit St. Faith's Church at Ohinemutu Village. A window in the church features an image of Jesus sandblasted on glass facing the lake, giving the impression that he is walking on water. The church also houses magnificent Maori carvings and woven tukutuku panels. Later this afternoon, we'll visit the Whakarewarewa thermal area. This evening, we enjoy a Maori cultural experience with dinner at the Mai Ora hangi, featuring traditional food cooked by hot stones covered by earth.
Lake Plaza Hotel, Rotorua B,D
November 17 Rotorua-Christchurch
This morning we fly from Rotorua to Christchurch on the South Island. The town, dating from 1850, began life as a church of England settlement, hence the name. The Avon River, named for a Scottish brook, meanders through the town. In the afternoon, our tour of Christchurch includes Canterbury Museum, the Botanic Gardens, Mona Vale, and the view of the city from the Sign of the Takahe in the Cashmere Hills. Now a restaurant, the roadhouse was built originally to foster preservation in the region.
Hotel Grand Chancellor, Christchurch B,D
November 18 Christchurch-Hokitika-Franz Josef
Today we travel by bus over the spectacular Southern Alps through Arthur's Pass to Hokitika, crossing over the new Otira Road Viaduct opened in 2000. The small town of Hokitika was founded on greenstone--New Zealand jade--and gold. We'll pick up supplies here for a picnic lunch at Lake Mahinapua--weather permitting. A short walk from the main road to the lake through a tunnel of native bush is memorable. After lunch, we drive through the small towns of Ross, Harihari and Whataroa to Franz Josef.
Franz Josef Graham Hotel, Franz Josef B,D
November 19 Franz Josef-Fox Glacier-Haast
We set off this morning for the Franz Josef Glacier. We'll stop at the visitor center, then continue to a parking place where one can view the glacier from a lookout. Those inclined may walk toward to the glacier for a closer view.
Weather permitting, optional flightseeing is available. All flights land on the compacted snow at the top of the glacier. Four different flights are available, 20-40 minutes, AU$150-300.
Leaving Franz Josef, we drive to the township of Fox Glacier, where we will stop briefly. Then we drive to Fox Glacier where we can walk to the base of the glacier. Later we continue to Haast where we'll visit the South Westland World Heritage Park Visitors Centre.
Haast Heritage Hotel, Haast B,D
November 20 Haast-Queenstown
We set off this morning for Queenstown. En route, we'll stop at Thunder Creek Falls, The Gates of Haast, Blue Pools and Lake Wanaka Township. Arriving in Queenstown on Lake Wakatipu, the rest of the afternoon is free. We'll gather this evening for an included ride on a gondola up to Bob's Peak where we'll have dinner at the Skyline Restaurant. The panoramic view from the peak is spectacular, taking in the distant Remarkables range and the town and lake below.
Blue Peaks Lodge, Queenstown B,D
November 21 Queenstown
Queenstown has just too many and too varied attractions to make a choice for the group, so we have left the day free for you to choose. Walk along Lake Wakatipu, take a short jet boat ride, or opt for a half-day wine tour, a garden tour or lake cruise on the TSS Earnslaw, or a full-day tour to Skippers Canyon, or a Jet Boat Safari on the Dart River, or one or two of many other options. There will be plenty of time, information, and advice on which to base your choices.
Blue Peaks Lodge, Queenstown B,D
November 22 Queenstown-Milford Sound-Queenstown
We drive this morning to Milford Sound, stopping en route at Lake Te Anau, Mirror Lakes, Homer Tunnel entrance and The Chasm. Arriving at Milford Sound, we board our boat for a cruise on this magnificent arm of the sea, reminiscent of the fjords of Norway. Milford Sound is one of several deep inlets that together comprise the Fiordland National Park. The park, including approximately three million acres, in 1986 was designated a World Heritage Area because of its magnificent natural features and its value in demonstrating the earth's evolutionary history. Leaving Milford Sound, we return to Queenstown. If weather permits, we'll stop at the Department of Conservation's park at Te Anau to view the takahe, a bird thought to be extinct, but rediscovered in 1948.
Blue Peaks Lodge, Queenstown B,D
November 23 Queenstown-Mt. Cook
We take our leave of Queenstown, cross the Shotover River and drive to the old gold mining township of Arrowtown. You'll be free here to walk in the old Chinese Settlement, stroll along the Arrow River, visit the interesting Lakes District Centennial Museum, walk through the historical cemetery, or just wander the township's streets, perhaps stopping for a coffee in a cafe.
Shortly after leaving Arrowtown, we stop briefly at the birthplace of bungee jumping. Since 1989, over 450,000 people have jumped the 142' from the Kawarau Historic Bridge. Sorry, no time in the schedule for your jump. Continuing through the Kawarau Gorge, past Cromwell, Dunstan Lake and over the Lindis Pass, we'll take a rest stop at Omarama, the Maori "Place of Light," renown for its mountain gliding.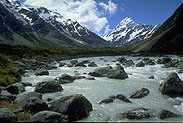 We arrive soon at Mt. Cook Village, at the base of Mt. Cook. The 270-square mile Mt. Cook National Park contains the highest peaks in New Zealand, twenty over 10,000'. Mt. Cook is the highest in Australasia. The Maori call it Aoraki, the Cloud Piercer. The park also contains the world's longest temperate-zone glacier, The Tasman. We'll take a scenic drive and stop at the visitor center. From here, we'll have our choice of a number of walking trails. This evening, we'll enjoy a farewell dinner.
Glencoe Wing, The Hermitage, Mt. Cook Village B,D
November 24 Mt. Cook-Christchurch-Los Angeles
This morning we drive by Lake Pukaki and Lake Tekapo, through Burke Pass and the rugged Mackenzie country and the Canterbury Plains, and arrive in Christchurch. Our flight homeward leaves Christchurch in late afternoon, and we have a plane change in Auckland. The flight is an overnight, but we arrive at Los Angeles the same date, November 24, since we cross the international date line. That is, we leave Christchurch on the afternoon of November 24 and arrive in Los Angeles the morning of November 24. Hmm. B
Note on hotels: Hotels noted above are those customarily used. Hotels are actually booked considerably later than the preparation of this web page, and those finally booked may be different from those shown here. As soon as bookings are made, necessary corrections, if any, will be made to the itinerary description.

---
Is traveling with a tour
right for you?
Before you decide to sign on this tour, or any tour, consider carefully whether tour travel is right for you. If you find it a bother and a distraction to have to search for accommodation, hunt for a place to eat, research a destination, plan an itinerary, arrange transportation, handle baggage and other travel chores, a tour is right for you. On the other hand, if you would find adherence to a schedule planned by someone else too confining, if you prefer the flexibility of making changes on the spot, if you would find it a bore to see the same faces each morning, then you should not join a tour group. Traveling independently is more flexible to be sure, but it is considerably more difficult than tour travel. Tour group members are willing to give up some options for the assurance that they can devote their full attention to enjoying travel without the time-consuming distractions required by having to make their own day-to-day arrangements.
---
COSTS
Program fees listed below are per person, double occupancy. Fees are shown for two group sizes, as: 16 members/11 members. We intend to form a group of 16-18.
16 members 11 members
From Los Angeles US$5,350 US$5,655

Add-on air fares from your departure city are available. Call Adventures Abroad. See contact information below.

Single supplement: $630; none if you are willing to share and we can pair you with a suitable roommate. Unfortunately, if we cannot, the single supplement must be assessed.
We're flying from Los Angeles on Qantas Airways. Qantas is a partner with American Airlines, British Airways, and others, and you can earn frequent flyer miles with either Qantas or one of its partners.
Land only: US$3,530 (16 members); US$3,760 (11 members)


---

The tour price includes:

Service of an expert Adventures Abroad guide.
Transportation while on tour
Arrival and departure transfers in Australia and New Zealand if air booked through Adventures Abroad
Australian visa (but see below under "Travel Documents")
Sightseeing and entrance fees
Shared accommmodation in 3 and 4 star hotels, or best available
breakfast and dinner daily
Porter service where available
All gratuities (except for Adventures Abroad Tour Leader). Thus, one need not tip any others who provide services associated with the tour, such as bus drivers, local guides, baggage handlers, and hotel and restaurant employees, except where the service is personal rather than related to the tour.

The tour price does not include:

Airport departure taxes and/or user fees
Arrival and departure transfers if air not booked by Adventures Abroad
Visa or entry permit fees
Lunches
Adventures Abroad Tour Leader gratuity


---

TRAVEL INSURANCE

Travel insurance is strongly recommended. On request, Adventures Abroad will send information and a brochure by mail, or you can purchase the insurance at the time that you register for the tour. Cost for the Adventures Abroad non-medical package is $144 for the land only tour, and $214 for land and air, with no reference to age of the traveler. This package includes trip cancellation and interruption. It does not include medical and emergency evacuation. Ask about more comprehensive plans, if you wish. Travel insurance of course is optional, and you may purchase from any provider you wish. Ask questions so you will know precisely what coverages are included.

Note: insurance companies that cover pre-existing conditions usually require that the insurance be purchased within 7-14 days of making your initial trip deposit. Investigate if you are concerned about coverage for a pre-existing condition. Also ask the insurance company for their definition of a pre-existing condition. It varies.


---

TRAVEL DOCUMENTS

Take care that your passport will be valid six months beyond the ending date of the tour. A visa is required for citizens of the United States and Canada for entry to Australia, none for New Zealand. Adventures Abroad will obtain the Australian visa for you if they are booking your international air, and if you will travel with an American or Canadian passport. If you are arranging your own air, you can purchase the Australian visa online. If you will travel with a passport other than American or Canadian, write to me for information about the visa.
---

QUESTIONS?

All arrangements are handled by Adventures Abroad, a leading soft adventure travel company, specializing in culturally and ecologically responsible small-group travel.

Our Adventures Abroad guide is Stephen Scrogings, an Australian who has traveled extensively, visiting all seven of the world's continents, and has lived abroad. He holds degrees in art and sociology and has a passionate interest in foreign cultures. A resident of Melbourne, he has an intimate knowledge of the histories and cultures of Australia and New Zealand. Those who have traveled with Stephen have been lavish in their praise. In addition to Stephen's expert leadership, the tour group will be escorted by Harlan Hague, Ph.D., writer and retired history professor. For information on my background and experience in organizing and escorting tours, please see my home page.

If you have questions, please write to me. If you want to contact Adventures Abroad directly, telephone 800-665-3998. Select extension 5062, and ask for Lorna. The office is open Monday-Saturday, 9:00 a.m.-5:00 p.m., Pacific time.


---

READY TO SIGN ON?

If you are ready to sign on, read the Adventures Abroad Terms and Conditions page. Ignore the "I accept/I do not accept" option at the bottom of the page. Telephone Adventures Abroad at 800-665-3998, extension 5062, and speak with Lorna, or whoever is available. Tell her or him that you wish to register for "Harlan Hague's Australia/New Zealand November 2003 departure." Be prepared to give a US$300 deposit by Visa, Master Card, or American Express. You may also send a personal cheque, but registration will not be complete until receipt of the cheque by Adventures Abroad. (Note: all payments, including final payment, may be made by credit card.) If Adventures Abroad is booking air for you, be prepared at the time of booking to give your Quantas frequent flyer number, or your American Airlines AAdvantage number, or your frequent flyer number for another Quantas partner.

Welcome aboard! Write to me--delete the word REMOVE from the address--when your registration is complete, and I'll give you a proper welcome.

---

Photos

Courtesy of Philip Greenspun:
Milford Sound
Kuranda butterfly
Curly-horn sheep
Mt. Cook

Courtesy of Rosemary Beattie:
Jamison Valley
Katoomba Falls
Koalas

Courtesy of Warwick Barnes:
Uluru

Courtesy of Mike Thicke:
Kata Tjuta (Olgas)
Reef fish

---