---
This tour in autumn 2002 will focus on the countryside, villages and small towns of Japan. We will look deeply into the culture and soul of Japan by visits to temples, shrines, castles, and gardens. We will walk along historic paths and through forests showing glorious autumn foliage, doing a little birding along the way. Craftsmen will demonstrate ancient techniques for making fine washi and exquisite lacquerware. We'll stay in a mix of traditional Japanese inns, hotels and spa resorts, enjoying local cuisine and customs.
The Itinerary
October 26, Saturday Arrive in Tokyo
Fly from your home to Tokyo Narita Airport. American members will leave the United States no later than October 25, losing a day by crossing the international dateline. Not to worry, you'll recoup the day on the return journey. Transfer by Airport Limousin Bus (included) to our hotel in the heart of Shinjuku for a two-night stay. Welcome dinner tonight at a traditional Izakaya Restaurant.
Keio Plaza Intercontinental Hotel D
October 27, Sunday Tokyo
We'll take the train this morning two stops to the Meiji Shrine, an exquisite example of traditional wooden architecture, set in an inner city forest, some of which should be showing autumn color. From here, we take another train to visit Tokyo's Imperial Palace East Garden. Afterwards, we examine Japan's modern history at the Edo Tokyo Museum.
The rest of the day is free to do as you wish. On Sundays, the main street in Shinjuku is turned into a pedestrian promenade, and all the shops are open.
Keio Plaza Intercontinental Hotel B
October 28, Monday Tokyo-Nikko
Drive by private coach to the famous shrine city of Nikko. Here we visit the Toshogu Shrine, known for the original carving of the Three Wise Monkeys. There are live monkeys as well. Afterwards we drive into the mountains to view Kegon Waterfall and placid Lake Chuzenji, lined by deciduous forests that should be in brilliant fall color. Tonight we stay in a traditional spa resort hotel, a central part of the Japanese holiday experience, where the clear glass walls of the hundred-person bathroom looks out over a deep gorge and and its tumbling stream.
Kinugawa Onsen B,D
October 29, Tuesday Nikko-Hakone National Park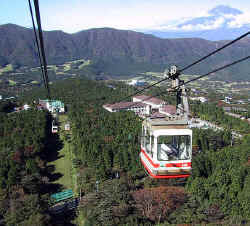 From Nikko, our coach takes us to Odawara in Hakone National Park. From here, we take in turn a local train, inclined railway, switch back railway, and ropeway over the mountains to our hotel. (Our baggage is delivered by coach.) En route, we stop for a visit at the Hakone Open Air Museum which displays in three buildings and rambling gardens hundreds of art works, both Japanese and western, including huge bronze sculptures by Henry Moore. Then on to our hotel, set in a vast woodland, with a view of Mt. Fuji on one side and the geothermal area of Owakudani on the other. This is another spa hotel where we will stay two days, enjoying local Japanese cuisine and bathing in thermal springs.
Hakone Green Plaza Hotel B,D
October 30, Wednesday Hakone National Park
Today we can walk among the bubbling mud pools and steaming sulphur- encrusted fumaroles of Owakudani. Take a guided three-mile walk along a forested shoreline trail at Lake Ashi to observe the birdlife and autumn foliage. Afterwards, we will stroll with our guides on the best preserved segment of the old Tokaido Trail, bordered by four hundred year old cryptomeria trees.
Hakone Green Plaza Hotel B,D
October 31, Thursday Mt. Fuji-Matsumoto Castle-Kiso Valley
This morning we drive up above the tree line (2,500 meters, 8,200 feet) on Mt. Fuji, passing through a variety of botanical zones showing spectacular autumn colors and views along the twisting mountain road. En route, we'll see Matsumoto (Black Crow)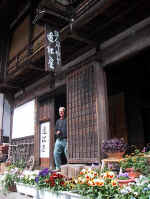 Castle, the oldest remaining wooden castle in Japan. We'll likely view it only from the outside since access is not assured. Driving further in the Japanese Alps, we stop to visit a lacquerware maker along the road to Tsumago, one of the original post towns on the Old Nakasendo Trail that joined Edo, now Tokyo, and the capital city of Kyoto.
Tonight we stay in two genuine Edo period traditional village minshuku (guest houses) with an open pit fireplace in the middle of the lounge floor and sliding paper walls between each room. (Bring earplugs.) Definitely no western food tonight. We'll have local cuisine cooked by the owner of the inn. There are no shops in the village and no other types of accommodation. In this village, we step back two hundred years. This is the closest one can get to ancient Japan.
Maruya and Ohmiya minshuku, Otsumago B,D
November 1, Friday Kiso Valley-Tsumago-Mino-Kyoto
Early risers might enjoy exploring the forested Nakasendo Trail that goes by the front door of our minshuku, following the babbling stream and listening for bird song. After breakfast, we will walk the original trail.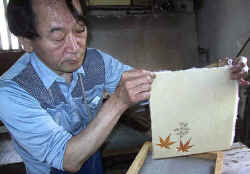 We'll pass farm houses and walk through cultivated fields, cross a stream and arrive in the village of Tsumago where unspoiled Edo period wooden buildings line the street. You'll think you have stumbled onto a samurai movie set. We cross the mountain by coach to Magome, another photogenic village. From here we motor to Mino where we are welcomed into the home of Mr. Sawamura who will demonstrate how he makes some of the finest handmade paper, called washi, in Japan. Some of his paper is watermarked, and some have actual gold leaf and autumn-colored maple leaves embedded in the paper fibers. From Mino, we drive to Kyoto.
Tonight we begin a five-day stay in Kyoto, the picturesque ancient capital of Japan. Our hotel is The Miyako, an historic five-star hotel built on the forested slopes of Higashiyama. The grounds of The Miyako include a modern landscape garden, a traditional Japanese garden, a mushroom farm, and a forested birdwatching trail. What a contrast to the minshuku! You may be ready for a western interlude, a bed on legs and western food.
The Miyako B
Note: Dinners are not included in Kyoto. There are many small reasonably-priced restaurants with local cuisine and atmosphere in the area. Our guides will give suggestions and directions.
November 2, Saturday Kyoto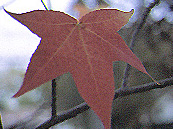 Begin the day with a traditional tea ceremony, and an explantion of its origins and meaning. Afterwards, go by local railway to Nijo Castle, famous for its "twittering floor," then by subway and a short taxi ride to the Kiyomizu Temple, one of the most unique wooden structures in the world, located in a forest of maples. Walk the stepped path down Sanenzaka Slope, lined with little shops full of local crafts, food and ceramics, past tiny shrines and tea gardens with ponds full of colorful golden carp, to Gion, the famous Geisha Quarter. Here we attend a performance at Gion Corner Theater to see representative examples of bunraku, swordmanship, Geisha games, dancing, flower arranging and other arts.
The Miyako B
November 3, Sunday Kyoto
We use public transport to visit some of the best local gardens for viewing autumn colors: Tofukuji Temple, Kyoto Botanic Gardens, and Ginkakuji (Silver Pavilion). We may be a bit early for the peak of color in Kyoto, but the gardens are enjoyable for their unique designs, plant collections, and historical importance. From Ginkakuji we stroll along the Philosophers' Path where deciduous trees drape over a peaceful brook that flows almost to our hotel..
The Miyako B
November 4, Monday Kyoto
Today we go to the western outskirts of Kyoto to board wooden riverboats to ride the rapids that flow through the forested Hozu River Gorge to Arashiyama. Then stroll along a narrow country lane that is overgrown by a magnificent bamboo forest which shelters many Buddhist retreats. Finish the day at Ryoanji Temple, famous for its dry garden of stone and raked gravel, the acme of Zen garden design.
The Miyako B
November 5, Tuesday Kyoto-Nara-Kyoto
Today we take the train to Nara, another ancient capital. First we visit Todaiji Temple, the world's largest timber building, which houses the world's largest bronze statue of Buddha. Stroll through an historic parkland with neatly manicured trees where a thousand deer roam free. We'll walk a path lined with hundreds of stone lanterns, through the forest to Kasuga Shinto Shrine, an actively functioning religious center. Return to Kyoto by train.
The Miyako B
November 6, Wednesday Kyoto-Okayama/Kurashiki
Today we begin to use our "7-day Railpass" to explore southern Honshu Island. Take a small bag with essentials for the next two nights. Groups may not take large bags on the Bullet Train which we will board this afternoon. Our larger bags will be trucked to Tsuwano, our destination on November 8.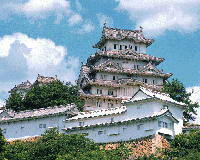 Take the train to Himeji Town where we stroll leisurely around Himeji Castle, a striking white and grey architectural masterpiece, the most beautiful traditional stone castle in Japan. Go inside and examine the ramparts, battlements, towers, walls, hidden passageways, living spaces and armory at your own pace. Walk back to the railway station through a covered shopping arcade several blocks long. Watch the time! We have a train to catch.
Board the famous Shinkansen Bullet Train, and speed through the countryside at 250 kilometers per hour. Arrive at Okayama where we visit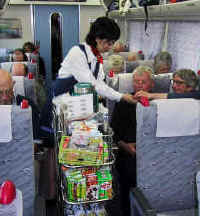 Korakuen, one of Japan's most studied stroll gardens. Tonight we stay in the pretty village of Kurashiki in a hotel near the old part of the town.
Kurashiki Kokusai Hotel B,D
November 7, Thursday Kurashiki-Hiroshima-Miyajima
We go by train across the twelve-mile long Seto Ohashi Bridge that spans the Inland Sea to the island of Shikoku. Stop at Takamatsu where we visit Ritsurin, a fine example of the Stroll Garden using a "borrowed landscape." Return across the bridge and then southward to Hiroshima where we visit the Hiroshima Peace Memorial and Atomic Bomb Museum. Continue to Miyajima whose shrine with its feet in the water is one of the most familiar sights in Japan. Tonight we stay in a traditional inn with a Japanese banquet.
Kamefuku Inn B,D
November 8, Friday Miyajima-Tsuwano
Boarding the train, we ride along the coast, then turn inland to reach the small, 700-year-old mountain village of Tsuwano. Wander through the narrow streets and along the little stream where golden carp swim. Paper craft makers' shops line the streets. Several samurai houses have been preserved, and there are two Christian churches in the village. We stay for two nights in small combination Japanese/western hotel. Beds are western style, and you can choose to eat at western-style tables or at traditional Japanese low tables on tatami floors. Our larger bags will be waiting for us at the inn.
Sun Route Hotel B,D
November 9, Saturday Tsuwano-Hagi-Tsuwano
Today we go by train for a day of exploring the historic pottery and castle town of Hagi, also known as "Little Kyoto". Stroll through the old samurai district along a carp-filled stream and see the stone bridge and a Zen temple with five hundred lanterns. Visit some of the many pottery galleries or the Hagi Uragami Museum, featuring a world-class collection of Japanese woodblock prints and antique Chinese and Korean ceramics. Return by train to our inn in Tsuwano for the night.
Sun Route Hotel B,D
November 10, Sunday Tsuwano-Matsue
Free morning in Tsuwano and vicinity to relax and enjoy this picturesque old town. Attend church if you wish. When packing your bags for departure this day, put in your backpack or shoulder bag whatever you will need for the next two days since you will not see your large bags until November 12. In the afternoon we board the train and follow the coastline of the Sea of Japan and turn inland to the town of Matsue on the shore of Lake Shinjiko. Sunset across the lake is considered one of the best scenic views in Japan. Night in a hotel that is a mix between Japanese style and western.
Matsue Tokyu-in B
November 11, Monday Matsue-Amanohashidate
Today we take the train further along the coast to Amanohashidate, a pilgrimage site that all Japanese people want to see at least once in their lifetime. This is a two-mile spit covered in pine trees, jutting out into the bay. The view is particularly striking at sunset, a moment to reflect on our experiences in Japan. We celebrate our last evening in Japan with a farewell dinner at our traditional inn. Don't worry about not having your large bag here. You'll be wearing your yukata at dinner.
Amanohashidate Hotel B,D
November 12, Tuesday Amanohashidate-Osaka
We'll visit Amanohashidate this morning and depart about noon. Relax on the train during the journey to Osaka Kansai Airport--we will arrive at 5:30 p.m.--where we say goodbye to good friends and prepare for our flights homeward. Those flying from Osaka this day will receive their large bags in the airport.
If you are not flying this day, your bags can be shipped directly to whatever hotel you have booked for the night. Some members will continue this day by rail to Tokyo or Narita, using their railpass, arriving about 9:00 p.m. If you wish to investigate accommodation in Narita City, write to me. If we arrive in Osaka too late for a flight from Osaka this date, be sure to book accommodation for the night. Destination Management can help with this, if you wish. Destination Management can also help with a booking in Tokyo or elsewhere for this night. B
Note: Weather or other circumstances beyond our control could require altering the above itinerary. In that unlikely event, we will do our best to substitute a similar site or event to the one missed.
The tour price includes:
Ken Osetroff and Mayumi Gray as our personal guides; some local guides.
Accommodation in traditional Japanese inns, spa resorts, and hotels. Double occupancy. Single accommodation is available only in western style accommodation. In Japanese traditional inns, a single person customarily will be placed in a room with one other person. (I promised soft adventure.)
Meals as indicated in the itinerary.
All internal transportation, including a 7-day Japan Rail Pass.
Some porterage between trains and hotels
(See the Booking Form for more details on what is included.)

The tour price does not include:
International air. The tour begins in Tokyo and ends in Osaka. Some members may wish to arrive early or extend at the end of the tour.
Travel insurance.
Some porterage.
Personal hotel services.
(See the Booking Form for more details on what is not included.)

Is traveling with a tour right for you?

Before you decide to sign on to this tour, or any tour, consider carefully whether tour travel is right for you. If you find it a hassle and a distraction to have to search for accommodation, hunt for a place to eat, research a destination, plan an itinerary, arrange transportation, and other travel chores, a tour is right for you. On the other hand, if you would find adherence to a schedule planned by someone else too confining, if you prefer the flexibility of making changes on the spot, if you would find it a bore to see the same faces each morning, then you should not join a tour group. Traveling independently is more flexible to be sure, but it is considerably more difficult than tour travel. Tour group members are willing to give up some options for the assurance that they can devote their full attention to enjoying travel without the time-consuming distractions required by having to make their own day-to-day arrangements.

Are you ready for Japan?

If you have read the itinerary carefully, you will have noticed that we stay often in traditional Japanese inns. This means sleeping and sitting on the floor. We will sleep on futons on a tatami mat floor, and we will sit on the tatami at low tables for meals. Traditional Japanese inns serve traditional Japanese food. Legless chairs, with a seat cushion and back rest, are provided. If that sounds daunting, but you still want to join us, you know what to do. Begin stretching and exercising now.

You will have noticed also that we will be riding a great variety of transportation, including trains, buses, subways, ropeways, boats, a switch back railway, as well as private charter coaches. It will be very important that you reduce the weight of your bags as much as possible since you will have to manage them personally on some days, and sometimes on unpaved roads and cobblestone roads and footpaths.We may have some help occasionally at hotels and inns with baggage, but don't count on it. Bags sometimes will be transported for us between trains and hotels, but not always. Be sure to bring an overnight bag or small backpack since on some occasions, our larger bags will be transported ahead, and we will not see them for a day or two. For the most part, you will personally carry only a shoulder bag or backpack on the trains.

Note that we often walk when a specific attraction is best enjoyed on foot rather than in a bus. We also take walks occasionally in the countryside. These are not death march hikes. We will walk at a steady, pleasant pace, and more often we will simply stroll. You should be in reasonably good health and in condition to keep up with the group.

It should also be noted that all the places where we stay feature western-style toilets.

COSTS

Land Only AU$7,280. (approx. US$3,750 at this writing)

Single supplement: AU$1,472. However, no single supplement is assessed if the single person expresses a willingness to share, and we can pair the single person with a suitable roommate. Note that whether or not the single supplement is paid, a single room is customarily not available in traditional inns. Write to me for more information.

NOTE for American members: Deposits and final payments will be received and posted in Australian dollars and converted to U.S. dollars on the day of posting. The U.S. dollar is quite strong against the Australian dollar at the moment. Watch the exchange rate. You may want to pay in full early to take advantage of the current favorable rate. Here's a good web site to check the exchange rate.

TRAVEL INSURANCE

Full coverage travel insurance is required. Destination Management has long experience in sending tours to Japan and has concluded that travel insurance is essential to protect the traveler there. You may purchase from any provider you wish. Ask questions so you will know precisely what coverages are included. You will need to indicate the insurance company and policy number on your application.

Note: American travel insurance companies that cover pre-existing conditions usually require that the insurance be taken out within 7-14 days of making your initial trip deposit. The point is irrelevant in this case since you will have to take out the insurance before submitting your application and deposit. Nevertheless, for your own information, ask the insurance company for their definition of a pre-existing condition. It varies.

TRAVEL DOCUMENTS

Take care that your passport will be valid six months beyond the ending date of the tour. Visas for Japan are not required of citizens of the United States, Canada or Australia. You will need to show your roundtrip air ticket to the immigration agent on arrival in Japan.

QUESTIONS?

All arrangements are handled by Destination Management, an Australian company that has gained considerable following for its tours to Japan that focus on the countryside and villages. Ken Osetroff, the owner of Destination Management, will personally lead our tour. He has been taking tours to Japan since 1983. Working with Ken as interpreter and guide will be Mayumi Gray who was born and grew up in Japan and is now a citizen of Australia. Mayumi has a long associaton with the Japanese travel industry and has an intimate knowledge of the Japanese way of life, culture, food, history and talent for presenting the awesome wonders of her homeland.

In addition to Ken and Mayumi and local guides, the tour group will be organized and escorted by Harlan Hague, Ph.D., writer and retired history professor. For information on my background and experience in organizing and escorting tours, please see my home page.

If you have questions, please write to me. If, after contacting me, you wish to contact Destination Management directly, address your email to Ken Osetroff. Remember that he is located in Australia. Check Australian and U.S. clock times at this web site. In Australia, call Ken toll free at 1300 307 317.

READY TO SIGN ON?

If you are ready to sign on, read the Destination Management Booking Form. All references to costs are in Australian dollars. Click on "I Agree" at the bottom of the page, and you will go to the application form. Print the form, fill it out, and mail it to the address shown on the form. If you would rather submit your application by fax, the number from the U.S. is 011 61 7 3359 1263. Thirdly, you can scan the completed application, and attach it to an email addressed to Destination Management.

The deposit required at the time of submitting the application is AU$400. The final payment is due sixty days before departure. The deposit and final payment may be made by credit card--VISA or MasterCard only--or by electronic transfer of funds from your bank account to the agency account of Destination Management at this address:

Westpac Bank
Stafford Branch, Brisbane, Australia
Branch Number 034 054
Account Number 480076
Account Name, Highcliff P/L T/A Destination

If you plan to pay by credit card, add the credit card information to your application, or send it by email or fax to Destination Management. If you do not use VISA or MasterCard, I will be happy to earn the frequent flyer miles by charging your payments to my credit card, and you can pay me by personal cheque.

Australian applicants can also make both deposit and final payments by personal cheque.

Upon receipt of your application and deposit, Destination Management will send a packet of materials directly to Australian applicants, and I will send materials to all other applicants. The packet will include maps, pictures and general information about Japan. I will also give you a proper welcome to the group.

Upon receipt of your final payment, we will send a detailed itinerary, trip notes, and a final hotel list, along with addresses, phone and fax numbers and email addresses of hotels. We don't expect any hotels to be changed, but infrequently circumstances beyond Destination Mangement's control force changes. If that happens, similar accommodation will be substituted.

Write to me if you have any questions about the application and payment procedure.