Yet it is still possible to see wildlife in East Africa without the crowds. Go to Tanzania. It is what Kenya was fifty years ago. In Tanzania,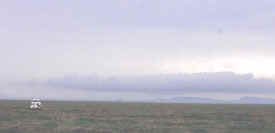 you will often be in company with other safari vehicles, but you may on occasion be quite alone.

Begin the new millennium with the trip that you've always promised yourself. Come with us on safari to Tanzania. You will be moved by the experience, and you'll never forget it.

Close to nature, but safe and comfortable
Today's safari is a far cry from the rugged safaris of the past. After a stimulating day of wildlife viewing, you can relax at comfortable, attractive lodges and classic tent camps. Located right in the scenic settings of the wildlife preserves, the lodges and camps are close to nature, but not too close for comfort. Tanzania is one of Africa's most stable countries, and you'll receive a warm welcome from friendly Tanzanians.

Pleasant springlike weather
Located at an altitude of 5,000 to 7,600 feet, northern Tanzania's dry sunny climate is nothing like the steamy African jungle. The weather is springlike year-round, with daytime temperatures in the 70s and 80s, evenings in the 60s. In February, we'll see the new grass that has been nourished by the short rains of November-January, but it is not yet high enough to hide the animals.

The Food
The food is a pleasant surprise for most safari travelers. Buffets include an array of main courses, some with an African flair, most for a western palette: meats, salads, cooked vegetables, and a table of delicious desserts. Bottled water is available every day on safari.

ITINERARY

Day 1 Sunday Departure
Depart San Francisco (and other cities) on KLM for Amsterdam.

Day 2 Monday Amsterdam
Arrive Amsterdam in the morning. You take a comfortable van or taxi to the Canal House Hotel for a late morning check-in. The remainder of the day is free to explore the museums, canals, and streets of Amsterdam. The safari group will gather in the hotel at some point today.
Night: Canal House Hotel, Amsterdam

Day 3 Tuesday Amsterdam/Arusha
Breakfast (included) at the Canal House Hotel. Drive by van to the airport for check-in two hours prior to departure for our flight to Kilimanjaro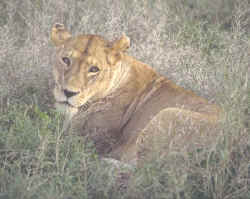 airport, Arusha. Upon arrival in the evening, we are met by our Thomson Safaris guides and driven to the Mountain Village Lodge near Arusha. This is a beautiful lodge and working coffee plantation in a stunning setting overlooking Lake Duluti. From the lodge grounds, there are magnificent views of Mt. Meru and distant Mt. Kilimanjaro. Accommodation in comfortable cottages in well-tended gardens.
Night: Mountain Village Lodge
Days 4-5 Wednesday-Thursday
Tarangire National Park
After breakfast and a safari briefing at the lodge, we depart for scenic Tarangire National Park. We'll arrive in late morning, viewing en route, and have lunch at the lodge. In the afternoon, we begin our exploration of this wonderful park and continue the next day.
Tarangire's geologic landscape is as diverse as its wildlife, with nine distinct vegetation zones, ranging from grassland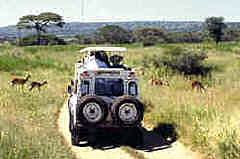 to woodland, from deep gully vegetation to scattered rocky hilltops. We'll see the distinctive bulbous baobab trees and the dramatic vistas of the Tarangire River valley. The river attracts an abundance of wildlife, including elephants, lions, cheetahs, giraffes, impala, buffalo, and a great variety of colorful birds.
Accommodation in tents set on permanent foundations, with enclosed toilet, shower and basin, and hot and cold water. Meals are served in an open dining area in the lodge. Both the lodge and tents overlook the river below.
2 nights: Tarangire Tented Lodge.
Day 6 Friday Tarangire/Manyara National Park
Following breakfast at Tarangire, we drive to Manyara National Park, a small preserve at the foot of the Great Rift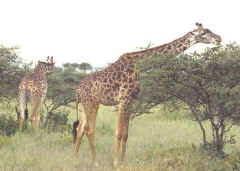 Escarpment. The park has a variety of habitats, including open grasslands, forests and swamps, and the lake itself. The park is most noted for its tree-climbing lions. Other animals that might be seen include elephants, hippo, animals of the plains, and a great variety of bird life, both resident and migratory.
In the early evening, we will drive up on the escarpment to our lodging. The view of the lake and valley from the top is memorable. Accommodation in tents on permanent foundations similar to that in Tarangire, but more widely spaced.
Night: Kirurumu Tented Lodge.
Day 7-9 Saturday-Monday The Serengeti
After breakfast we drive down off the escarpment to the Serengeti road. Before arriving at that magnificent plain, we have two treats. The road rises in the Ngorongoro highlands until we reach the rim of the Ngorongoro crater. We stop for our first look at the collapsed caldera of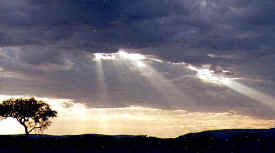 Tanzania's "Garden of Eden," gazing down into the magical crater below. This is a teaser; we'll be back.
We continue on our way and stop at the famed Olduvai Gorge where some of the earliest human remains were unearthed by the dedicated Leaky family. Here in these desolate gullies the jawbone of Zinjanthropus man was discovered. The small Gorge Museum explains the Leakeys' methods and their remarkable finds. We continue, viewing wildlife en route, and reach the Serengeti.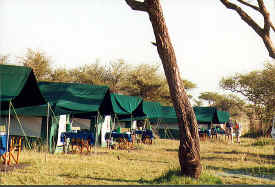 The Serengeti is the stuff of lore and legend. It is the quintessential safari Africa. We'll spend the best part of three days here, where we may see herds of tens of thousands of wildebeest and zebras, buffalo, hippo, lions, cheetahs, giraffes, many varieties of antelopes, bat eared foxes, jackals, and other smaller animals, and a great number of birds species. For the ultimate safari experience, we'll stay in a classic tent camp that is set up before our arrival. Far from the road and other human activity, we'll watch the sun set over the Serengeti and listen to the roar of lions near our camp at night.
3 nights: Thomson Classic Tents.
Day 10-11 Tuesday-Wednesday Serengeti/ Ngorongoro Crater
This morning, we drive out once more for wildlife viewing in the Serengeti. After lunch, we set out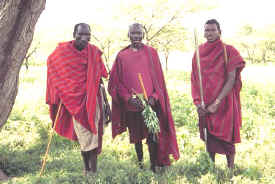 toward Ngorongoro. En route, by prearrangement we stop for a visit at a Masai village. Continuing on, we soon arrive at Ngorongoro Crater, wildlife viewing en route. We settle in at our comfortable lodge on the rim of the crater.
If you are an early riser, next morning watch the sun appear above the eastern crater rim. After breakfast, we descend 2,000 feet into the crater for a full day of wildlife viewing.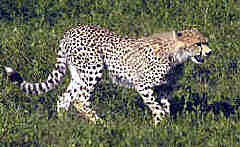 Here a nearly perfect balance of predator and prey exist within the 102 square miles of the volcano floor. We'll see animals scattered and in herds: elephants, zebras, wildebeest, buffalo, lions, rhinos, antelopes, monkeys, and more. We'll drive into the remnant forest on the floor, looking for leopards. At noon, we'll eat box lunches provided by the lodge--in our vehicles. Don't learn the reason the hard way.
2 nights: Ngorongoro Serena Lodge.
Day 12 Thursday Ngorongoro/Gibb's Farm
We descend into the collapsed caldera this morning for another wildlife drive. Then we'll drive up the wall of the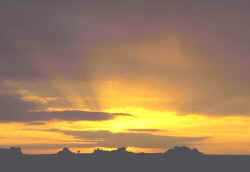 crater and leave Ngorongoro. We continue eastward to finish our day at Ngorongoro Safari Lodge. The local people refer to the Lodge as "Gibb's Farm," its original name. The property was originally established as a coffee plantation by Germans when the region was part of Tanganyika.
We'll settle into our cottages and enjoy the lush beauty of the grounds. Walk along forest trails, or have tea on the lawn and watch the sun set over the valley below. We'll have a sumptuous farewell dinner here. Don't get too sentimental; we'll have a farewell lunch tomorrow.
Day 13 Friday Gibb's Farm/Arusha
After breakfast at Gibb's, we drive to Arusha where we have day rooms at a hotel in town. We'll enjoy a farewell lunch, with the afternoon free for swimming in the hotel pool or shopping. We'll return to the hotel in time to prepare for the early evening transfer to the airport for the return flight home via Amsterdam.
Day 14 Saturday Arrive in San Francisco and other destinations
BALLOON ASCENSION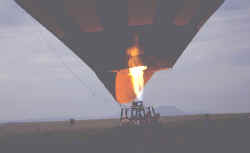 During your stay in the Serengeti, you can soar over the plain on an optional balloon flight that ends with champagne. Then enjoy a full English breakfast, cooked on the balloon burner and served by turbanned waiters on a table under an acacia tree, set with cloth and china. This is roughing it in fine style.
COSTS
$4,655 group of 12-15 members
$4,855 group of 8-11 members
$5,255 group of 5-7 members
We expect to form a group of fourteen or fifteen members. Prices shown are for a departure from San Francisco. Members may also leave from any other KLM departure city. For the location of your nearest departure city, and the price from that city, write to me. For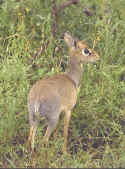 example, the price from New York, Boston, and Newark is $4,445, the price from Dallas and Houston is $4,695, and the price from Washington Dulles is $4,545.
Note that flights from some cities arrive in Amsterdam in time to connect with the flight from Amsterdam to Kilimanjaro airport, Arusha. Members from those cities who wish to break their trip with a night in Amsterdam will be assessed $110 for hotel and airport transfers, and a $150 fee imposed by KLM. On the other hand, if the flight from a particular city arrives in Amsterdam too late to connect with the Kilimanjaro flight--this is the case with the San Francisco departure--the price quoted for that departure city will include the cost of the Amsterdam hotel and transfers. The member will not be assessed the KLM fee because KLM considers this a "forced stopover".
For example, a member flying from New York will arrive in Amsterdam in time to change to the KLM departure for Kilimanjaro airport. If he elects to do so, bypassing a stopover in Amsterdam, his tour cost remains $4,445. On the other hand, if he wishes to break his flight with a night in Amsterdam, he will be assessed the $110 hotel and transfer cost, plus the KLM stopover fee of $150. The members's total tour cost would be $4,705. This example applies also to flights from Dallas and Houston, and Washington Dulles.
Other Costs
$4255 Land and air from Amsterdam
$390 Single supplement
$328 balloon ascension over the Serengeti
Single supplement: If you are traveling without a companion and wish to share a room, we will make every effort to match you with a suitable roommate. If we are unable to do so, the single supplement unfortunately must be assessed.
THE CAMPING
Camp will be set up prior to the group's arrival.
You stay in large walk-in tents equipped with two camp beds, pillows and mattresses, sheets and blankets.
Each tent is fronted by a verandah which is furnished with a table, wash basin and two director's chairs.
The dining tent is complete with tables, chairs and tablecloths.
Our cooks are the best around, presenting delicious, varied, ample meals.
A toilet tent is connected to each tent. A shower tent is set up between each two tents. Hot showers are available every day.
Camp lighting is provided by kerosene lamps.
CUSTOM-DESIGNED SAFARI VEHICLES
Our safari vehicles are 4x4 Land Rovers, specially designed for Thomson Safaris and refined again and again over the years. The benefits of the Land Rovers include:
You're safe. Four-wheel drive provides maximum traction and stability.
You're comfortable.

High-backed seats with thickly cushioned fabric.
Arm rests and map pockets.
Ample storage space for luggage; you travel with your luggage.

You have unobstructed views of wildlife and landscape.

Each passenger has his/her own single seat at a window which opens.
A roof hatch provides open views and easy photography.

You learn as you go, from your guide and from a resource library that is furnished by your guide.
OPTIONAL EXTENSIONS
There are a number of opportunities for extending your safari, for example, to the island of Zanzibar, the little-visited huge Selous Wildlife Reserve in southern Tanzania, a trek on the slopes of Mount Kilimanjaro, or a visit to Masai Mara, Kenya. See descriptions of these extensions.
ARRANGEMENTS
All arrangements are by Thomson Safaris, with offices in Cambridge, Massachusetts and Arusha, Tanzania.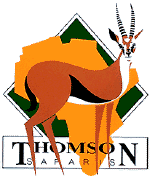 The safari group is being formed and escorted by Harlan Hague, Ph.D., writer and retired history professor. For information on my background and experience in organizing and escorting tours, see my home page. For a description of tours that I have led and others that are in the planning stages, see my Tours page. I took a group on safari to Tanzania, also with Thomson Safaris, as recently as 1998. Read about that safari in my freelance article.

QUESTIONS? READY TO REGISTER?
Write to me. I'll be happy to answer your questions. If you want to communicate directly with someone at Thomson Safaris, write to Pat Neate at their Massachusetts office, or call her at 800/235-0289.
This is going to be a fantastic adventure. Come with us.
If you are ready to register, call Pat at Thomson Safaris, 800/235-0289. Be prepared to give a $300 deposit by credit card. Then write to me so I can give you a proper welcome to the safari group. If you do not receive a prompt reply, it will be due to my absence, not neglect. I will respond on the day that I see your email.
Important: If you plan to take out trip insurance, it is important that you buy it within seven days of putting down your deposit so that pre-existing conditions are covered. If you have questions, ask Pat or me.
Shortly after registration, you will receive a predeparture packet, which will contain clothing recommendations, reading lists, travel document requirements, and health advice, as well as the detailed safari itinerary and tentative flight schedules.
---